Brig. Gen. Egbert B. Brown
1st Brigade, Pleasonton's Provisional Cavalry Division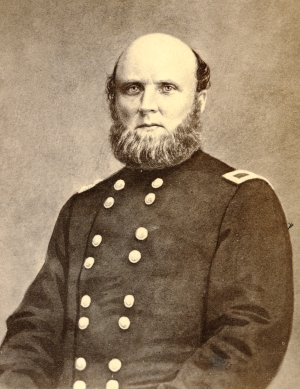 Born in New York in 1816, Egbert Benson Brown was a successful business-man in Toledo, Ohio, serving as its mayor, before moving to St. Louis, Missouri, to enter the railroad business. When the Civil War began, Brown mustered in as lieutenant colonel of the 7th Missouri Infantry but resigned in May 1862 to accept a commission as brigadier general in the Missouri State Militia.
Brown was severely wounded in action at Springfield during Marmaduke's 1863 raid into Missouri. In October 1863, Brown fought at the Battle of Marshall during Shelby's Great Raid.
When Confederate Maj. Gen. Sterling Price invaded Missouri in 1864, General Brown was in comand of the Ditrict of Centrl Missouri with his headquarters in Warrensburg. Ordered to the defense of Jefferson City, Benson's command was named the 1st Brigade in Maj. Gen. Alfred Pleasonton's Provisional Cavalry Division.
Early in the morning of October 23, Pleasonton directed Brown to lead the attack against the Confederate defenses at Byram's Ford. Brown began to get his brigade on the move around 6:30 a.m. but was unable to locate one of his regiments. Pleasonton, who was at the rear of his division about five miles from Byram's Ford, started moving to the front around daybreak. As he continued forward, he became angry when he heard no sounds of battle. Then he came upon Brown's "missing" regiment, the 1st Missouri State Militia Cavalry, commanded by Col. James McFerran and found that the regiment was nowhere near be ready to go into battle. Pleasonton exploded, relieved McFerran from command and send him to the rear under arrest. Pleasonton now went looking for Brown. Pleasonton had not calmed down when he found Brown who was about to order his men forward to attack. Pleasonton placed Brown under arrest and sent him to the rear. He placed Col. John F. Philips, 7th Missouri State Militia Cavalry, in command of the brigade. Pleasonton explained in his official report why he arrested Brown on the morn-ing of the battle.
"Brig. Gen. E. B. Brown was ordered to move his brigade forward and attack the enemy at daylight and keep pushing him vigorous-ly, as he would be well supported. Not finding any attack being made I went to the front. I found Brown's brigade on the road so disordered as to be in no condition for fighting, and General Brown himself had made no preparations to carry out my order. I immediately arrested him, … and placed Colonel Philips, of the 7th Missouri State Militia, in command of Brown's brigade."
Pleasonton preferred charges against Brown but the military court acquitted him of disobeying orders.
After the war, Brown mustered out of volunteer service and served as a US pension agent until 1868. Then Brown moved to Illinois to farm.
References
OR s1 v22 p1, 179–181, 622–629.

OR s1 v22 p2, 89, 127, 188, 263, 343, 419, 764.

OR s1 v41 p1, 336–350.

Sinisi, Kyle S. The Last Hurrah: Sterling Price's Missouri Expedition of 1864. Lanham, MD: Rowman & Littlefield, 2016.

Warner, Ezra J. Generals in Blue: Lives of the Union Commanders. Baton Rouge, LA: Louisiana State University Press, 1992.

Wikipedia. "Egbert B. Brown," October 15, 2021. https://en.wikipedia.org/wiki/Egbert_B._Brown.