Brig. Gen. John B. Clark Jr.
Marmaduke's Brigade, Marmaduke's Division, Army of Missouri (CSA)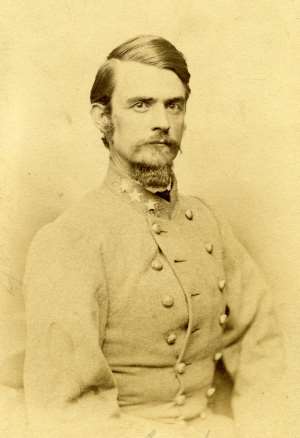 (Wilson's Creek National Battlefield)
Born in Missouri in 1831, John Bullock Clark Jr. graduated from Harvard Law School, returning to Missouri to practice law. When the Civil War started, Clark joined the Missouri State Guard as a major assigned to his father's division. Clark was promoted to brigadier general in April 1864.
During Price's 1864 Missouri Expedition, General Clark's brigade was part of the unsuccessful attack against Fort Davidson during the Battle of Pilot Knob. On October 14, Price ordered Clark across the Missouri River to attack the Federal garrison at Glasgow. The attack succeeded and the garrison surrendered. On October 21 at the Little Blue River, Marmaduke ordered General Clark to send in reinforcements when the intial attack stalled. But this attack also failed to overwhelm the Federal defense until units from Shelby's Division were sent in. Now the Confederate greatly outnumbered the Federals and Maj. Gen. James G. Blunt was forced to fallback through Independence. Clark described the action taken by Lawther and Greene that morning.
"Under instructions from General Marmaduke I sent … Colonel Lawther with his regiment to secure the ford one-half mile below [the bridge], who soon reported the lower crossing clear, the en-emy retiring toward Independence. I moved the brigade to the lower ford, but found the crossing very difficult and slow. Hearing quick firing to the front I hastened forward with Greene's regiment, leaving orders for the command to follow as rapidly as possible, and found that Colonel Lawther had indiscreetly attacked a very heavy force of the enemy posted behind some stone fencing which ran at right angles to the road and afforded complete protection against small-arms. He was driven back and in his turn assailed by the enemy, when I arrived with Greene's regiment."
On October 22, Clark's Brigade had to turn back to support the Confederate rear guard in Independence. Clark described his actions to support Fagan's withdrawal from Independence and stop the Federal advance.
"On the same evening Independence was captured, my brigade encamping two miles beyond the town on the Westport road. On the morning of the 22d, Fagan's division being hotly pressed from the rear, General Marmaduke sent me an order to form line of battle at some suitable point near my encampment, some two miles from Independence, as a support to Freeman's brigade, which was formed in my front some half a mile, Fagan's division having been pressed back, then Freeman's brigade, the enemy came within range of my artillery (Pratt's) half an hour before sundown, which immediately opened and checked his advance."
On October 23, Clark's Brigade made up the main defense line for Marmaduke's guarding of Byram's Ford. After Freeman's Brigade in their advance position near the Big Blue River was flanked and withdrew, Clark's Brigade and artillery poured fire into the advancing Federals. Fighting continue for a long time unitl noon, when Marmaduke gave the order to fall back. Clark described these events in his official report.
"The enemy came upon me in the full enthusiasm of pursuit, and though my brigade contended nobly with the foe for two hours and strewed the open field in our front with his dead, our ammunition exhausted, we were forced to leave the field again to the enemy, our dead in his hands. The booming of Fagan's and Shelby's guns were heard all this time in the direction of Westport heavily engaging the enemy. At this time, I was directed by General Marmaduke to pass the train and protect its left flank from a threatened attack from cavalry."
Two days later, units from Clark's Brigade were the Confederate rear guard after an early morning skirmish near Trading Post, Kansas. The Federal cavalry only a half mile behind them as they approached Mine Creek. As Clark crested the top of the hill, he saw the wagon train was only partially across Mine Creek. After quickly consulting Generals Marmaduke and Fagan, Clark put his brigade into line of battle on the Confederate right flank. Clark's men fought well but their positions were soon overrun by the Federal cavalry commanded by Lt. Col. Frederick W. Benteen. The Confederate line broke and fell into headlong retreat. By the end of the day, Clark found himself in command of Marmaduke's Division because Marmaduke had been captured by the enemy.
After the war ended, Clark returned home to Fayette, Missouri, to resume his law practice. Clark, elected as a Democrat, served 10 terms representing Missouri in Congress, after which Clark stayed in Washington, D.C., to practice law.
References
"Clark, John Bullock, Jr.," accessed September 17, 2015, http://bioguide.congress.gov/scripts/biodisplay.pl?index=C000442

OR s1 v3, 30–32.

OR s1 v8, 318–320.

OR s1 v34 p1, 811–812.

OR s1 v41 p1, 678–687.

Sinisi, Kyle S. The Last Hurrah: Sterling Price's Missouri Expedition of 1864. Lanham, MD: Rowman & Littlefield, 2016.

Warner, Generals in Gray, 52.

Wikipedia. "John Bullock Clark Jr.," February 22, 2022. https://en.wikipedia.org/wiki/John_Bullock_Clark_Jr.