Maj. Gen. John S. Marmaduke
Marmaduke's Division, Army of Missouri (CSA)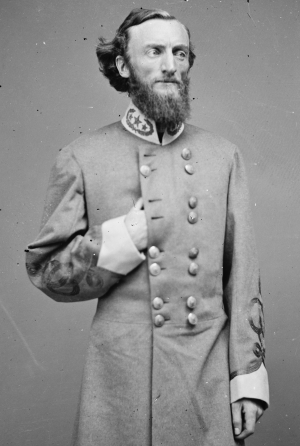 (Library of Congress)

John Sappington Marmaduke was born in 1833 to a prominent Missouri family. Marmaduke graduated from West Point, commissioned as second lieutenant in the 2d United States Cavalry under Col. Albert Sidney Johnston. Marmaduke served during the Utah Mormon War. When the Civil War began, Marmaduke decided to volunteer for the Missouri State Guard and was commissioned colonel of the 1st Regiment Rifles. Marmaduke led this command inn the Battle of Boonville where his outnumbered forces were defeated by Brig. Gen. Nathaniel Lyon.

In the fall of 1861, Marmaduke resigned from the Missouri State Guard to join the Confederate army. Marmaduke advanced quickly, rising to brigadier general by September 1862. Marmaduke fought at Shiloh, Cane Hill and Prairie Grove. Marmaduke led two cavalry raids into Missouri in the first half of 1863 and fought in the Battle of Helena. After Helena, Brig. Gen. Lucius Marshall "Marsh" Walker replaced Marmaduke as the divisional commander. Marmaduke became dissatisfied with the actions of his commander, and demanded to be transferred from Walker's command. Walker was incensed at Marmaduke's temerity and challenged him to a duel. On September 6, 1863, Walker was fatally shot by Marmaduke during the duel. During the Red River Campaign, Marmaduke's men were accusing of slaughtering the African-American troops that made up part of the Union forces.

During Price's 1864 invasion of Missouri, Marmaduke was in command of a cavalry division. His forces saw action during the Battle of Pilot Knob, the Battle of Glasgow, the Battle of the Little Blue, and then defending against the Union cavalry advance at Byrams Ford. On October 25, 1864, Marmaduke was captured during the Battle of Mine Creek, thus ending his war.

After the war, Marmaduke returned to Missouri and settled in St. Louis. In 1876, Marmaduke was elected railroad commissioner of the state and then in 1884 Marmaduke was elected governor. He died in the last year of his term as governor.

References
Bartels, Carolyn M. "The Capture of General Marmaduke By James Dunlavy an Iowa Private Cavalryman." In Trans-Mississippi Men at War, Volume I, 176–78. Independence, MO: Two Trails Publishing, 1998.

Huff, Leo E. "The Marmaduke-Walker Duel: The Last Duel in Arkansas." Missouri Historical Review 58, no. 4 (July 1964): 452–63.

Plummer, Mark A. "Missouri and Kansas and the Capture of General Marmaduke." Missouri Historical Review 59, no. 1 (October 1964): 90–104.

Ponder, Jerry. Major General John S. Marmaduke C.S.A. Mason, TX: Ponder Books, 1999.

Robinett, Paul M. "Marmaduke's Expedition Into Missouri: The Battles of Springfield and Hartville, January, 1863." Missouri Historical Review 58, no. 2 (January 1964): 151–73.

Webb, William L. "General John S. Marmaduke." In Battles and Biographies of Missourians, or, the Civil War Period of Our State, 311–15. Kansas City: Hudson-Kimberly Pub. Co., 1900.