Brig. Gen. John B. Sanborn
3d Brigade, Provisional Cavalry Division, Department of the Missouri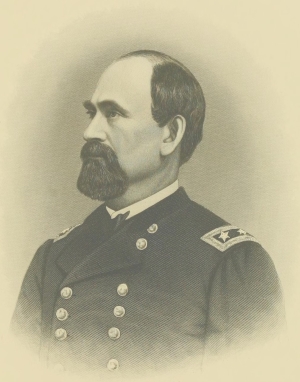 John Benjamin Sanborn was born in New Hampshire in 1826. Sanborn studied law and was admitted to the bar in 1854, after which he moved to Minnesota to practice law. Sanborn was serving in the state legislature when the Civil War began. Sanborn was appointed Minnesota's adjutant general. In January 1862, Sanborn was appointed colonel of the 4th Minnesota Infantry, receiving a promotion to brigadier general in August 1863. In 1862, Sanborn, commanding a brigade in Rosecrans' Army of the Mississippi, fought at the Battles of Iuka and Corinth. In October 1863, Sanborn assumed command of the District of Southwestern Missouri with headquarters in Springfield. Sanborn was still in command in Springfield fighting the guerrilla insurgency when ordered to proceed to Rolla to prepare to defend the state against the invasion by Maj. Gen. Sterling Price. After Price's raid, Sanborn returned to his command in Springfield. Sanborn was promoted to major general in February 1865. After the war ended, Sanborn was ordered west to fight in the Indian Wars, during which he was appointed one of the commissioners to negotiate a peace treaty. Sanborn mustered out in 1869 and returned to Minnesota to resume the practice of law.
References
Warner, Generals in Blue, 418–419.


Minnesota Board of Commissioners, Minnesota in the Civil and Indian Wars, 198–242.