Col. Edward F. Winslow
4th Iowa Cavalry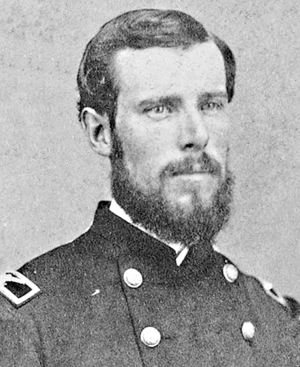 (Battle of Westport Visitor Center)
The young Yankee cavalry commander stood at the window on the second floor of the City Hall in Atlanta, Georgia. He slowly surveyed the chaotic panorama of the early spring morning where the first hints of green had appeared within the twisted remnants of the few trees left standing. A sea of white canvass of the tents in the Federal army encampment on the other side of Peachtree Street stretched eastward toward the rays of the rising sun. The nearly complete devastation of the city under his gaze was interspersed on his left with the blackened silhouettes of burned out specters of business buildings which had overseen the city's once vibrant economy.
The youthful general officer marveled at the great destruction which had been smote by the Lord upon the enemy's land in the "vintage where the grapes of wrath are stored." For the Yankee officer, Deo Vindice, God justifies; ironically, this had also been proclaimed on the Great Seal of the Confederacy.
His eyes came to rest upon the rubble of stone walls that marked the remains of the Western and Atlantic Railroad round-house and station works. The wrecked rail yard was only a couple hundred yards from where he stood and represented the former prowess of this prostrate community as a transportation hub for the Confederacy's war effort. In the railway's destruction the of-ficer saw a challenge and a need which, with youthful confidence, he was certain he could meet. Based on his past performance dur-ing the war, his confidence was well merited.
Handsome, with a winning, congenial personality, Bvt. Brig. Gen. Edward F. Winslow, at the mere age of 27 years, was the Federal military commander of the occupied city of Atlanta, charged with running the city and maintaining law and order among the civilians, refugees, and returning former Confederate soldiers. He was the de facto military mayor of Atlanta.
That he should be placed in this powerful position of authority at such a young age was a testament to his intelligence, grit, and great executive ability. His six foot frame was ramrod straight; he was sturdy but spare, weighing but 135 pounds. He was a gifted leader of men, a cavalry commander who succeeded because of a burning unvarnished earnestness tempered by a genuine concern for his colleagues, both superiors and subordinates.
Perhaps because of his own personal modesty, imbued with a core belief in his own abilities, Edward Francis Winslow never did ultimately publish his memoirs, unlike his colleagues in the Fed-eral Army. He knew what he had accomplished, was proud of his effort, and was secure in the knowledge that he had done the work and lived his life in harmony with God's wishes. For similar reasons, no extended biography of General Winslow has been produced.
The odyssey of Edward Winslow's life, which had brought him from Augusta, Maine, to Atlanta, Georgia, by May 1865, was a reflection of the greater transformation that was wrenching and reshaping American culture and society in the nineteenth century.
His life following his Civil War exploits detailed in these memoirs is in many ways more momentous than his shining military career. He became enmeshed in the very fabric of the "Gilded Age" and attained great financial success without being tainted by it. Unlike some Federal generals who were often less than successful in non-military life and business endeavors, General Winslow enjoyed overwhelming success. In this respect he is a far more complex and dynamic personality than many of the more celebrated Federal officers.
Edward Francis Winslow was born on September 28, 1837, in Augusta, Maine, exactly one year following his parents' marriage. He was the eighth child born to his father, Stephen Winslow, who, at 55 years of age when Edward was born, was more nearly the age of a grandfather. Stephen was in the sixth generation of descendants of Kenselm Winslow, one of three brothers who had founded the Plymouth Colony. Edward was the first born child of his mother Elizabeth Bass Winslow, a native of Boston. She was also mature at 43 years of age when he was born.
General Winslow was born into a family of builders. So in his formative years as a young boy, Edward received practical firsthand knowledge of construction methods and the coordina-tion of construction work. The period of 1820 to 1840 in Augusta, Maine, was a boom time particularly for construction work of public buildings. Augusta's selection in 1827 as the state capital prompted a succession of building projects in which the Winslow family would participate.
Edward was fortunate to be born into a community at a time when public education was valued. As a consequence, Edward's natural curiosity and intellect were nurtured, and he received a solid education which would serve him well.
The most significant factors for the formation of Edward's view of the world were religion and politics. Edward was grounded in a strong abolitionist sentiment among his parents and siblings. As adherents to this religiously based reform movement, the Winslows believed that they were perfecting the world to God's will through the eradication of the sin of slavery. To stand by idly in the face of this evil was a sin itself.
As Edward approached adulthood in 1855, the economy of Augusta seemed to have stagnated. His older half-brother Henry lived in Mount Pleasant, Iowa, and arranged a job for Edward at one of the town's banks. Mount Pleasant had a population in 1856 of less than 3,000 but its prospects seemed much brighter than those in Maine. So Edward moved to Mount Pleasant, Iowa, when he was 18 years old. His relocation halfway across the continent to Iowa enhanced his affiliation with the Republican Party.
Circumstances appear to have altered Edward's plans after his arrival in Mount Pleasant. Shortly after his arrival in 1856 Wins-low became, as he later described, interested in the "study and construction of railroads … the methods of construction and operation applied to them, as well as their financial affairs, were little understood, even by those in control." The Burlington and Missouri River Railroad had reached Mount Pleasant in July 1856. Equipped with his intelligence and construction experience, Ed-ward began working on the construction of the railroad west of Mount Pleasant in 1857.
In the spring of 1856 as young Edward left Maine for Iowa, there was little to suggest that he would have a military career and become an effective cavalry commander. His father, Stephen, had served as a private in the War of 1812 but had not seen combat or obtained promotion in rank. His half-brother, Henry, had had no military experience. Edward did not seek to gain entrance to West Point, a not uncommon quest for young men raised near the Kennebec Arsenal in Augusta, Maine.
Edward's firm belief that the Confederacy was engaged in the perpetuation of evil and destruction of the Union was his motivation to become a soldier. Edward, as did many of his peers, viewed military service as a noble opportunity; it was a means to an end to accomplish the greater good or, in other words, to engage in a crusade. He later wrote in this memoir: "It has been my fortune and duty to have set free many thousands of colored per-sons but the march was not hindered or the operations embar-rassed by having them with the command when in the presence of a vigorous enemy in force."
In his civilian work he had spent a long time in Wapello County, Iowa, extending the railroad to Ottumwa. It was a ready transition for him to seek to recruit soldiers for a new regiment, the 4th Iowa Cavalry, from the citizens of that county. Winslow's earnest belief in the cause and his personal charm led to the formation of Company F in that regiment. He was commissioned as the captain of Company F on November 23, 1861.
He brought to his new role as soldier the same qualities which had marked his railroad work. As he was en route home to Iowa in August 1865, he was described as "a man of great energy, great ambition and unlimited self-confidence. All agree that he is a splendid officer. He has both courage and skill to handle troops successfully in the face of enemy." In the fall of 1861, his road to reaching that high acclaim was murky and uncertain.
As he had become self-educated in the field of railroad construction and operations, he then similarly became absorbed in self-education to become a cavalry officer. The training of Captain Winslow and his green troops fell to Lt. Col. Thomas Drummond, who brought real world experience as a cavalry officer. He made an excellent mentor who "set about disciplining and training the regiment with an imperious energy that startled the men, and gave them for the first time the idea that a soldier is a man who obeys another man's orders."
Captain Winslow and his comrades had the good fortune to be at the right place at the right time. Federal cavalry operations would experience a revolutionary change during the 36 months following the regiment's muster. During this time Federal cavalry morphed from performing merely scouting and screening func-tions into an independent offensive weapon. "By the end of the Civil War, the Northern cavalry had become one of the most fear-some offensive forces that the world had ever seen."
The first step in that transformation was the revised cavalry tactics manual issued at the outset of the Civil War by Gen. Philip St. George Cooke. The War Department declined to adopt the Cooke Tactics as official Army doctrine. The old heads viewed it as too reckless. The principal change was the use of a single line formation by company, extending over a broad front and in effect creating a wall of fire. In March 1862, Colonel Drummond had obtained and begun using the new Cooke Tactics for the training of the 4th Iowa Cavalry. Captain Winslow absorbed Cooke's Tactics and learned with time to implement them successfully.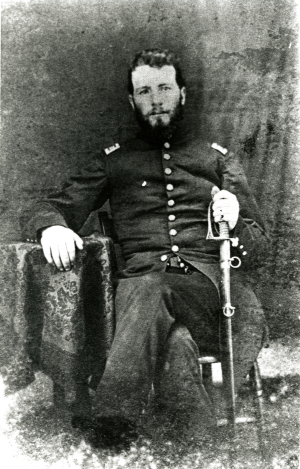 By the summer of 1862 the regiment reached Helena, Arkansas, on the Mississippi River, having traveled through great challenges with little of substance to show for it. Captain Winslow no doubt was feeling constrained and in search of an opportunity for greater effectiveness. For an ambitious young man, the encampment at Helena over the next nine months was surely dishearten-ing, with the humdrum tasks of gathering supplies and other routine cavalry tasks. Captain Winslow remained confident, howev-er, and diligent in performing his tasks. He innately manifested the character traits necessary for ultimately attaining good fortune: sound preparation in anticipation of an opportunity whenever it might appear. Through his work as provost and his personal rapport with his command, he was promoted to the rank of Major of the 4th Iowa effective January 3, 1863.
His great attachment to the men he commanded contributed to his ability to lead them in battle. He later wrote that during this period, he "was always with his company, actively occupied in the care and instruction of his men." He had personally recruited many of the men he led, particularly those in Company F. Captain Winslow's attitude is reflected in a letter he wrote to the father of a private in the company who had taken ill. His sense of responsibility for maintaining morale on the home front as well as the care of his men is evident.
I look on your son as a brother and will, so far as lies in my power, always do all I can for his health and advancement. You have much cause for pride and joy in such a young man for a son, and I know he will always have friends because of his integrity, modesty, sincerity and honesty of character. I regard him as one of the most promising young men of my command and am always reliant and confident concerning any business which is entrusted to his charge or care. The army is a bad place for the morals of most persons who enter it and the larger half will undoubtedly be wrecked on its shoals and bars of immorality, but your son I regard as one of the safer ones who, by con-tinuance in paths which they have thus far traveled, will come out of the furnace purified.
By April 1863 Major Winslow received his first break from the rather unpromising circumstances at Helena. Opportunity now arrived as Maj. Gen. Ulysses S. Grant prepared to launch the Vicksburg campaign. Grant lacked cavalry to provide typical func-tions of reconnaissance and screening of movement. He sent a request for a regiment of cavalry to the commander at Helena. Maj. Edward F. Winslow solicited and won the order dispatching the 4th Iowa Cavalry to Grant's army. By April 30, 1863, Major Winslow's regiment had arrived and was assigned to the XV Ar-my Corps under Maj. Gen. William T. Sherman. The 4th Iowa held the unique role as the only cavalry regiment in the XV Army Corps until Vicksburg was finally besieged and capitulated on July 3, 1863. Because the regiment's colonel was in poor health, Major Winslow actually performed the duties of regimental commander.
The major turning point in his military career occurred on May 12, 1863, when Major Winslow and his command became engaged in a fierce fight with the Confederate defenders at Fourteen Mile Creek. In the immediate view of Generals Sherman and Grant, Winslow demonstrated his pluck and courage as his mount was shot from beneath him and one of his men was killed. His tenacity, good judgment, quick action, and bravery deeply impressed Sherman. With his railroad construction expertise, Winslow, to the amazement of the senior Union commanders, skillfully directed his men under fire in the rapid rebuilding of the bridge which the enemy had destroyed. From that point forward, Wins-low was highly esteemed by Sherman. The next day, Sherman asked Winslow to accompany and ride with him and his staff.
Winslow had demonstrated the necessary trait of a successful cavalry commander: reckless attack. On July 4, 1863, Winslow was promoted to colonel, and Sherman began giving Col. Edward F. Winslow more and more responsibilities. Over the next year, Winslow commanded cavalry during General Sherman's Meridian Expedition in February 1864, the Battle of Brice's Crossroads in June 1864, and the Battle of Tupelo in July 1864. By August 1864, Colonel Winslow was in command of the 2d Cavalry Division in the Cavalry Corps of the Army of the Tennessee and planning on being a part of Sherman's Atlanta Campaign.
But fate had other duties in mind. Winslow's command was diverted, first into Arkansas and then Missouri, to go up against a Confederate invasion force under the command of Maj. Gen. Sterling Price. After chasing after Price's army through northeastern Arkansas and southeastern Missouri, Winslow's command finally caught up to them in Independence, Missouri. Here's where Winslow's command joined Maj. Gen. Alfred Pleasonton's Provisional Cavalry Division and fought on October 23, 1864, at Byram's Ford. Winslow was severely wounded in the leg that day and retired from the field.

Following his recovery, Winslow commanded the 1st Brigade, Upton's Brigade in the Cavalry Corps of the Military Division of the Mississippi during Maj. Gen. James H. Wilson's expedition through Alabama and Georgia in the spring of 1865.

At the age of 25, Winslow took advantage of every opportunity to learn his job of cavalry commander over the next two years, rising to the rank of brigadier general of volunteers. After the war, Winslow returned to the railroad business.
References
Bryant, Maria Whitman. Genealogy of Edward Winslow of the Mayflower and His Descendants from 1620 to 1865. New Bedford, MA: E. Anthony & Sons, Inc., 1915.

Stuart, Addison A. "Colonel Edward Francis Winslow." In Iowa Colonels and Regiments, 609–20. Des Moines, IA: Mills & Company, 1865.

Wilson, James H., and William F. Scott. General Edward Francis Winslow: A Leader of Cavalry in the Great Rebellion. New York: Military Order of the Loyal Legion of the United States, 1915.

Winslow, Edward F. The Story of a Cavalryman: The Civil War Memoirs of Bvt. Brig. Gen. Edward F. Winslow, 4th Iowa Cavalry. Edited by Dick Titterington and Daniel L. Smith. Overland Park, KS: Trans-Mississippi Musings Press, 2016.
| by Daniel L. Smith and Dick Titterington |