Byram's Ford Markers: October 23 Events
Press the play button to hear the audio.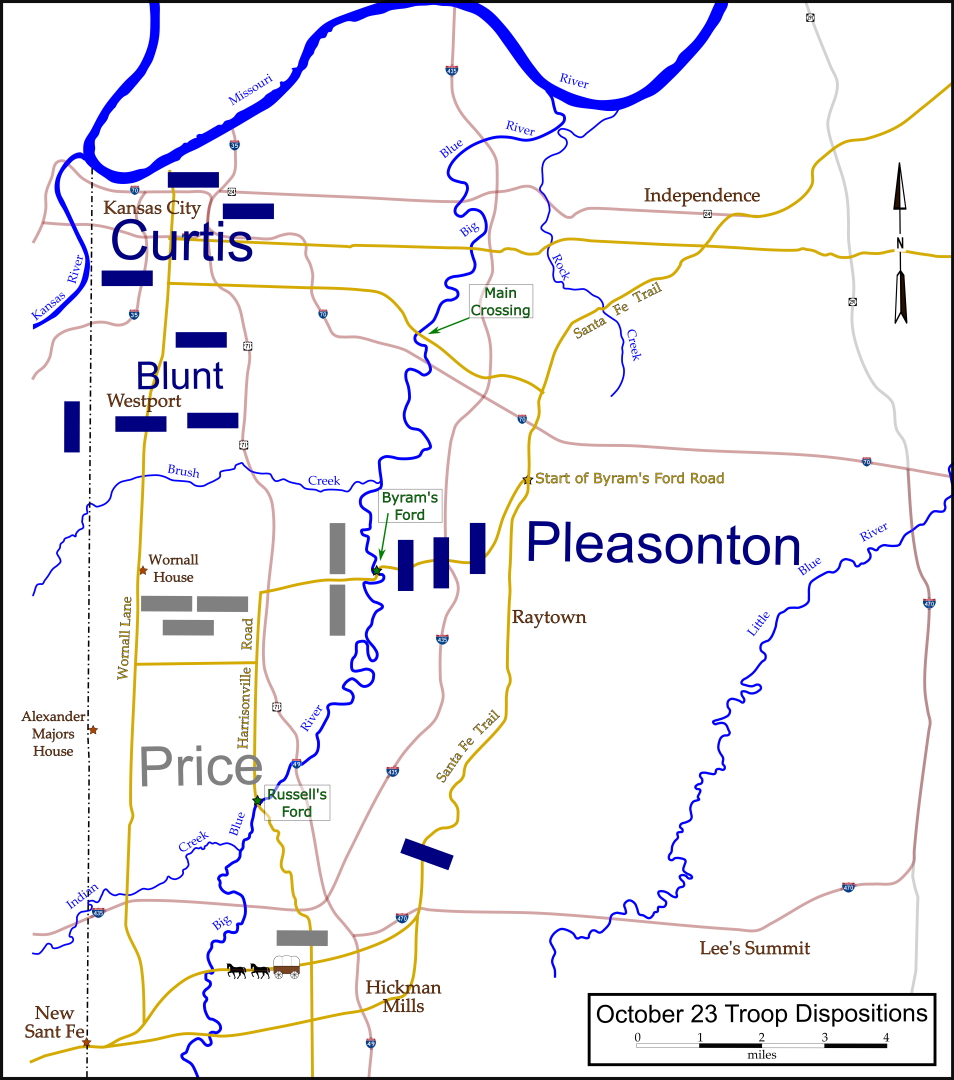 On Sunday, October 23, there was a second major battle fought over control of Byram's Ford. On this day, the Confederates were defending the ford and the Federals were attacking.
Overnight, Maj. Gen. Sterling Price came up with a solution to the Confederate's difficult situation. Price needed to protect his army and his wagon train. His odds of success were greatly reduced if the two Federal commands combined their forces and attacked Price's army.
So, Price ordered Maj. Gen. John S. Marmaduke to prevent the Federals from crossing the Big Blue River at Byram's Ford. The Confederate wagon train was on its way to New Santa Fe but was still vulnerable to the Federal cavalry. General Marmaduke deployed his division in the defense works occupied by Federals on the previous day.
Price also ordered Brig. Gen. Jo Shelby to attack the Federals in Westport. If Shelby, supported by Maj. Gen. James F. Fagan's Division, could defeat the command of Maj. Gen. Samuel R. Curtis, then the Confederates could turn their attention to defeating the command of Maj. Gen. Alfred Pleasonton.
***
After their defeat the previous day, General Curtis was focused on defending Kansas City from an attack. But then Curtis received word that Pleasonton's cavalry was on the east side of the Big Blue River. Reassured that reinforcements were nearby, Curtis ordered Maj. Gen. James G. Blunt to move south from Westport and attack the Confederates first thing Sunday morning.
***
General Pleasonton's Division spent the night in Independence. General Pleasonton ordered the 2d Brigade, commanded by Brig. Gen. John McNeil, to leave at midnight, move south down the Santa Fe Trail, and prevent any Confederate movement south from Westport. Energized by his victory in Independence yesterday, Pleasonton's focus was on Byram's Ford. He ordered to his 1st Brigade to attack the Confederates at first light.
***
So, early Sunday morning Shelby's troops moved north, Blunt's troops moved south, and they spent the next 6 hours battling it out south of Brush Creek.
Over at Byram's Ford, Marmaduke's troops waited for the Federal attack. The Federals needed some time to untangle themselves but launched their attack by 8:00 a.m.
Their initial attack stalled, and General Pleasonton ordered Col. Edward F. Winslow to break through with the 4th Brigade. Colonel Winslow sent a 4th Iowa Cavalry battalion, commanded by Capt. Edward Dee, down a ravine to get across the river and flank the Confederate skirmish line. When Captain Dee moved out, Winslow led the rest of his brigade down to Byram's Ford and renewed the attack.
Once Dee hit the Confederate left flank, the Confederate skirmishers quickly withdrew west to Marmaduke's main defense line. Now the Federal troopers crossed the river and continued their movement west. Again, the Federal advance stalled because of heavy Confederate fire. But the Federals persevered and were able to reach the main defensive line of the Confederates just as they were withdrawing from their defense works. The Confederates were running low on ammunition, and Marmaduke ordered his men to withdraw down the Harrisonville Road, exposing Shelby's right flank.
***
Over at Brush Creek with intelligence from local farmer, George Thoman, General Curtis followed a path screened from the Confederates, unlimbered an artillery battery just southwest of present-day Loose Park, and opened fire on Shelby's left flank.
***
General Pleasonton quickly re-organized his forces at Byram's Ford and moved west with an artillery battery, opening fire on Shelby's forces trying to disengage over in present-day Loose Park. Shelby ordered Jackman's Brigade to pull out and deal with the new threat on his right flank. Shelby ordered Thompson's Brigade to withdraw south and catch up with the wagon train. All this happened while continuing to fight off the renewed Federal offensive led by Curtis and Blunt.
***
Pleasonton ordered the 3d Brigade, commanded by Brig. Gen. John B. Sanborn, to pursue the retreating Confederates. Desperate to hold off the Federal pursuers, General Shelby ordered Col. Sydney D. Jackman to deploy his brigade behind a stone wall running east-west in present-day Forest Hill Cemetery. In what came to be known as "Shelby's Last Stand," the Confederates were able to repulse Sanborn and safely catch up to their wagon train.
***
Around 2:00 p.m., the Federal commanders called off the pursuit and met in the farmhouse of Elijah Thomas, located about a half mile north of Indian Creek on Wornall Lane. The Confederates continued their retreat through New Santa Fe, heading south. The three-day Battle of Westport was over.
***
This audio was narrated by James C. Edwards.
This audio was written and produced by theCivilWarMuse.