Byram's Ford Markers: Price's 1864 Missouri Raid
Press the play button to hear the audio.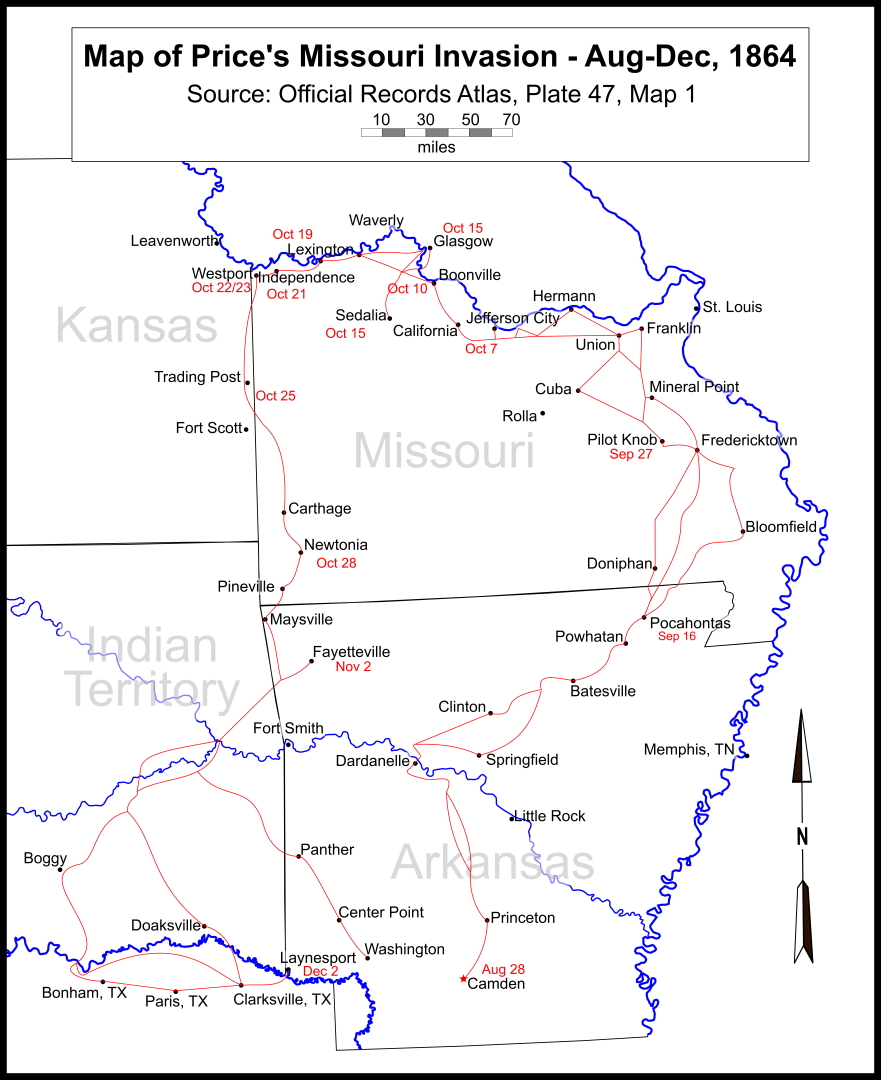 The Battle of the Westport was the result of a three-year-long quest by Missouri Confederates to take the state back from Missouri Unionists. Driven out of Missouri during the winter of 1861/62, Maj. Gen. Sterling Price had been fighting Union forces for three long years and desperately wanted to lead one last attempt to reclaim his home state of Missouri for the Confederacy.
On August 3, 1864, Price received authorization to invade Missouri. The Confederate invasion force consisted of around 12,000 cavalry, which Price named the Army of Missouri. There were three divisions commanded by Maj. Gen. James F. Fagan, Maj. Gen. John S. Marmaduke and Brig. Gen. Jo Shelby. Leaving from Pocahontas, Arkansas, Price's army entered the State of Missouri on September 19, 1864. Over the next month Price left a path of destruction in his wake as he headed west toward Kansas.
***
The Federal commander in the Department of the Missouri, Maj. Gen. William S. Rosecrans, kept hearing rumors about an invasion of Missouri by Sterling Price. When Rosecrans finally learned that Price had entered southeastern Missouri, he ordered Brig. Gen. Thomas Ewing, Jr. to proceed with reinforcements down to Fort Davidson in Pilot Knob, Missouri. He also ordered his commanders in Springfield and Rolla to bring as much of their cavalry as possible and head for Jefferson City as quickly as possible.
The Federal commander in Kansas, Maj. Gen. Samuel R. Curtis, also heard the invasion rumors and kept in touch with Rosecrans. Curtis had even fewer troops to protect Kansas than Rosecrans had in Missouri. By the end of September, Curtis convinced Kansas Gov. Thomas Carney to call out the state militia. Curtis also ordered his second-in-command, Maj. Gen. James G. Blunt, to bring his veteran cavalry troops east to the Missouri border.
The stage was set. Rosecrans was mobilizing troops to defend Missouri, and Curtis was mobilizing his forces to defend Kansas. Price's advance on St. Louis was delayed when he decided to attack the Federal garrison at Fort Davidson in Pilot Knob, Missouri. By the time Price moved north toward St. Louis, he discovered it was too well defended to attack. So, Price turned west, setting his sights on Jefferson City, the state capital. The Army of Missouri moved slowly west, collecting plunder and destroying infrastructure. The Confederates reached the outskirts of Jefferson City on October 6. Once again, Rosecrans had time to mobilize reinforcements, and Price decided not to attack Jefferson City. The Confederates continued marching northwest toward Boonville, located further up the Missouri River.
***
Unfortunately for Price, the tens of thousands of recruits did not materialize, although a few thousand recruits and hundreds of civilians fleeing persecution joined his expedition. Price adjusted his goals and now focused on getting the recruits, civilians and plunder-laden wagon train safely back to Arkansas.
***
Now that Jefferson City was safe, Rosecrans ordered his second-in-command, Maj. Gen. Alfred Pleasonton, to assume command of the Federal cavalry and take out after the Confederate army. Rosecrans and Pleasonton named this ad hoc force the Provisional Cavalry Division, Department of the Missouri. His division held three brigades of Missouri State Militia cavalry, a force of around 4,100 troops. The commanders of the 1st, 2d, and 3d Brigades were Brig. Gen. Egbert G. Brown, Brig. Gen. John McNeil and Brig. Gen. John B. Sanborn, respectively.
Pleasonton planned to "proceed as a corps of observation after the enemy, to harass and delay [Price] as much as possible until other troops could be brought forward."
***
With Price headed his way, General Curtis readied his defenses. Close to 15,000 Kansans answered the call to serve as state militia. Around October 15, General Curtis organized the Army of the Border into two divisions. The 1st Division, commanded by General Blunt, consisted of three brigades of Federal volunteer cavalry and one brigade of Kansas State Militia. Col. Charles R. Jennison , Col. Thomas Moonlight , Col. Charles W. Blair and Col. James H. Ford were appointed brigade commanders. The 2d Division consisted of Kansas State Militia under the command of Maj. Gen. George W. Deitzler.
Curtis ordered Blunt into Missouri with about 2,000 veteran cavalry. Blunt reached Lexington the day before Price's advance did. Blunt was trying to buy time for Curtis to complete the Federal defense line back near Kansas City. Curtis decided to set up his main line of defense along the Big Blue River just east of Kansas City and Westport. He put the militia to work digging entrenchments around Wyandotte, Kansas, and Kansas City, Missouri, and along the Big Blue River.
Having scouted the area on his way to Lexington, General Blunt was convinced that the Federals could defend the covered bridge over the Little Blue River on the Lexington-Independence Road. He assembled his men there to wait for the Confederate advance. On October 21, Price ordered General Marmaduke to capture the bridge. It took all day, but Marmaduke's Division with support from Shelby's Division crossed the Little Blue River and drove the Federals all the way through Independence and back to their main line of defense along the Big Blue River. That night Price's army encamped in and around Independence. His wagon train of plunder and supplies contained hundreds of wagons. On October 22, Price planned to force a crossing of the Big Blue River at Byram's Ford on the Independence to Westport Road.
Thus, Byram's Ford became the focal point for two days of fighting between Federal and Confederate forces.
---
This audio was narrated by James C. Edwards.
This audio was written and produced by theCivilWarMuse.
Copyright © 2020 Grawader Enterprises, All Rights Reserved.