The Battle of Westport Visitor Center and Museum is now located at the Harris-Kearney House, 4000 Baltimore Ave, Kansas City, Missouri 64111.
The Battle of Westport Visitor Center and Museum features a number of exhibits and artifacts which interpret the battle from October 21 through October 23, 1864. Museum docents are available for guided tours of Kansas City battlefield areas. There are also self-guided battlefield tours available at the museum.
One exhibit new for 2015 is a large scale map providing a high-level overview of the Battle of Westport. Here is an image of that map. Click on the map to download a high definition copy of the map.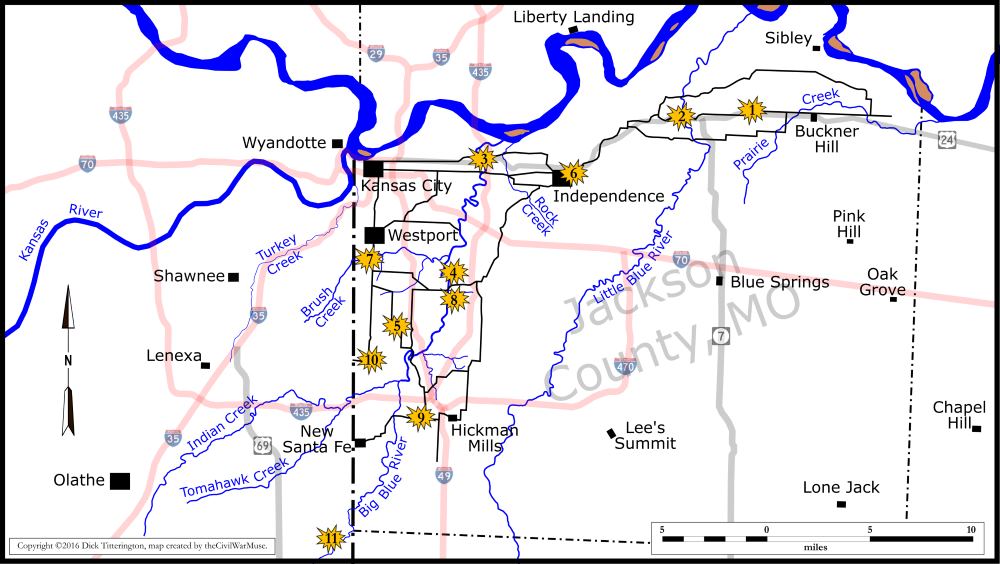 10/20—Price Encampment: Maj. Gen. Sterling Price's Army of Missouri bivouacs on Fire Creek Prairie east of the Little Blue River.
10/21—Battle of the Little Blue: Maj. Gen. John S. Marmaduke attacks 11th Kansas Cavalry, Col. Thomas Moonlight commanding, at the Little Blue River. Maj. Gen. James G. Blunt reinforces Moonlight late in the morning. By evening, Blunt withdraws through Independence to the Federal defense line along the Big Blue River.
10/22— Battle of the Big Blue: Around 9:00 a.m. Brig. Gen. Jo Shelby sends Col. Sydney D. Jackman's Brigade to feint at the main crossing of the Big Blue River between Independence and Kansas City.
10/22—Battle of the Big Blue: Around 11:00 a.m. Shelby leads the Iron Brigade, Brig. Gen. M. Jeff Thompson commanding, against the Federal 1st Brigade, Col. Charles R. Jennison commanding, at Byram's Ford on the Big Blue River. By 2:00 p.m. Jackman has rejoined Shelby at Byram's Ford. By 3:00 p.m. a Confederate detachment use Hinkle's Ford to cross the Big Blue River, flanking Jennison, who is compelled to withdraw from Byram's Ford.
10/22—Mockbee Farm: Between 3:00 and 4:00 p.m. Colonel Jackman advances south to gain control of Russell's Ford. As Jackman approaches the Mockbee Farm, he encounters the 2d Kansas State Militia Infantry, Col. George W. Veale commanding, deployed in line of battle. Veale was able to hold off Jackman's attacks but was overwhelmed by superior numbers.
10/22—Second Battle of Independence: Late in the afternoon, General Pleasonton reaches Independence, ordering Brig. Gen. John McNeil and Brig. Gen. John B. Sanborn to attack the Confederate rear guard commanded by Brig. Gen. William L. Cabell and Col. William Slemons. The Federal attack is successful and the Confederates fall back towards Byram's Ford. Pleasonton orders Col. Edward F. Winslow's brigade to chase after the retreating enemy and the fighting continues until 10:30 p.m.
10/23—Battle of Brush Creek: Around 6:00 a.m. General Blunt orders the 1st Brigade, Colonel Jennison commanding, and the 4th Brigade, Col. James H. Ford commanding, to cross Brush Creek and attack the enemy. About the same time General Shelby and Maj. Gen. James F. Fagan are moving south to attack the Federals. A fierce battle rages and Blunt is forced to withdraw north of Brush Creek. Around 10:00 a.m. reinforcements arrive and General Curtis leads another attack across Brush Creek and up the hill. Once again the Federals have to fall back to Brush Creek. Sometime between 11:00 a.m. and 12 noon, local farmer George Thoman leads Curtis through a defile where Curtis is able to bring artillery to open fire on Shelby's left flank. Shelby has to withdraw south.
10/23—Battle of Big Blue: Around 8:00 a.m. Col. John F. Philips leads the 1st Brigade against Marmaduke's defenses at Byram's Ford. After Philips is unable to get across the river, Colonel Winslow leads the 4th Brigade into the fight. After several attempts, Winslow's and Philips' brigades are able to reach the Confederate defense line, forcing Marmaduke to withdraw south down the Harrisonville Road.
10/23—Pursuit of Wagon Train: General McNeil catches up with Price's wagon train between Hickman Mills and New Santa Fe. McNeil fails to attack and only engages in some skirmishing and long range artillery fire with Cabell's Brigade. The wagon train is able to get safely away.
10/23—Around 2:00 p.m. with Price's army in full retreat, Generals Curtis and Pleasonton, along with other Federal commanders, meet at Thomas farmhouse to discuss their next steps.
10/23—By dark the Federal pursuit has ended and Price's Army bivouacs south of New Santa Fe along the Middle Fork of the Grand River.