1st Kansas Colored Infantry Memorial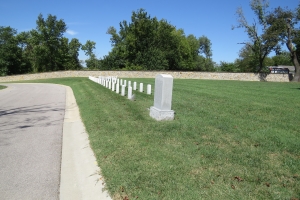 There is also a memorial to the 1st Kansas Colored Infantry, the first organized African-American unit to fight for the Union in the American Civil War. Companies from the 1st Kansas Colored fought in the Skirmish at Island Mound in Bates County, Missouri.
In Memory of the soldiers of the 1st Regiment Kansas Colored Volunteers who gave their lives in battle May 18, 1863, near Sherwood, Missouri.