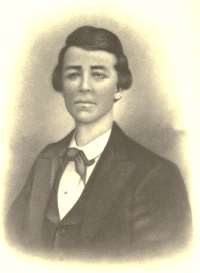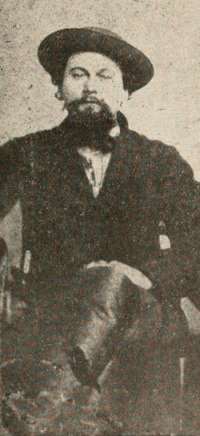 On August 21, 1863 William C. Quantrill led around 400 Missouri guerrillas across the border into Kansas to punish the symbolic capital of abolitionists in Kansas. One of the guerrillas present on the raid was John McCorkle. His sister, Charity, had been killed when the Union Prison building at 14th and Grand in Kansas City, Missouri had collapsed. His sister-in-law, Nannie, had been severely injured. They had been taken prisoner, pursuant to General Orders, No. 10 in the District of the Border, because they were relatives of known guerrillas. John McCorkle said the Lawrence raid was a direct result of the Union Prison Collapse.
The Federal soldiers at Kansas City … were guilty of one of the most brutal and fiendish acts that ever disgraced a so-called civilized nation … This foul murder was the direct cause of the famous raid on Lawrence, Kansas. We could stand no more. Imagine, if you can, my feelings. A loved sister foully murdered and the widow of a dead brother seriously hurt by a set of men to whom the name assassins, murderers and cutthroats would be a compliment
But William C. Quantrill had been planning a punitive raid against Lawrence well before Brigadier-General Thomas Ewing, Jr. had issued Order Number 10. Although plunder was one of the objectives of the raid, Quantrill particularly wanted to find and kill Kansas Senator, James Henry Lane, whom the guerrillas saw to be the leader of the Jayhawkers. Lawrence was also the home base of the hated Red Legs. Killing Lane would be a great symbolic victory.
During June and July the guerrillas along the border had been operating in small groups of 30-40. But towards the end of July, reports of large concentrations of guerrillas began coming in. On July 23, Lieutenant-Colonel Bazel F. Lazear had sent a report of rebels concentrating "somewhere east of Chapel Hill, on Davis' Creek, near Warrensburg." Four days later on July 27, Major Wyllis C. Ransom reported that he had fought off a large guerrilla force "on the head of the Sni, in the eastern part of Jackson County."
Quantrill met with his lieutenants in order to plan the raid sometime during the second week of August in 1863. During their planning session, there was a concern about getting through the Federal outposts along the border, riding 40 miles into Kansas, raiding a town of 3,000, and then returning safely to Missouri. Although planning for the raid began before the collapse of the Union prison building in Kansas City, there can be no doubt that the tragedy in Kansas City contributed to the ferocity of the ensuing raid.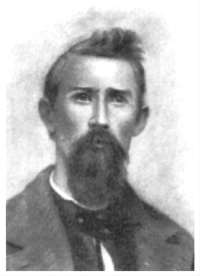 One of Quantrill's lieutenants, William H. Gregg, wrote about Quantrill's motivation for launching a raid on Lawrence, Kansas, saying "He longed to get even with Kansas. His proposition was to go to Lawrence.". Gregg relates a speech Quantrill made to his lieutenants during their planning sessions:
The Kansan has been murdering and robbing our people for two years or more … forbearance has ceased to be a virtue. Lawrence is the great hot-bed of abolitionism in Kansas. All the plunder … stolen from Missouri will be found stored away in Lawrence. We can get more revenge and more money there than anywhere else in the State of Kansas.
Lawrence Raid Timeline
Quantrill's lieutenants left to go collect their men. On August 18, about 300 guerrillas assembled at the farm of Captain Pardee Farm on the Blackwater River near Columbus in Johnson County, Missouri.
Around noon on August 19, the band of guerrillas had reached Potter farm in the vicinity of Lone Jack where they rested for a while.
As it turned out, about a dozen of the guerrillas decided against continuing on the raid. After dark, they started west, reaching a spot on the Middle Fork of the Grand River only a few miles from the Kansas border. As the band moved west they had been joined by additional bands of guerrillas and a force of 100 Confederate recruits under the command of Colonel John Holt. Now Quantrill's band numbered about 450 men. On August 20 at 3:00 P.M., Quantrill started his men heading west and into Kansas. The planned route would take them about five miles south of Aubrey, Kansas as they tried to sneak past the Federal troops patrolling the border.
The guerrillas reached Gardner, Kansas around 11:00 P.M. From Gardner, they followed the Santa Fe Trail for another three miles or so until turning north to Lawrence. Since they were traveling in Kansas at night, Quantrill forced a number of locals into service to act as guides. When these individuals stopped being useful, they were shot by the guerrillas.
They would cross the Wakarusa River at Blue Jacket's Crossing on the Oregon Trail. Quantrill's band reached the outskirts of Lawrence around 5:00 A.M.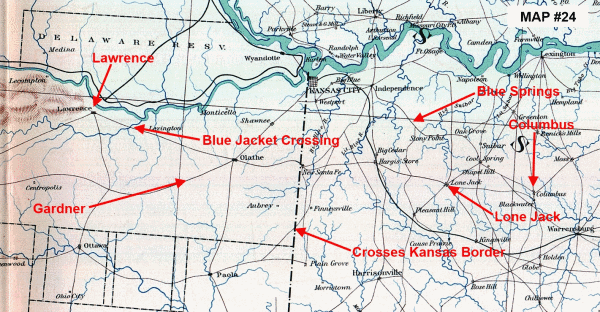 "Our Destination is Lawrence"
When the band reached the Potter farm, Quantrill told them their destination was Lawrence, Kansas. William H. Gregg remembered the speech Quantrill made to them at this point:
You, one and all, will understand that the undertaking we are about to commence is one of extreme hazard. It might be that the entire command will be overwhelmed, the ranks decimated as they have never been before. Hence, I say to one and all, if any refuse to go they will not be censured.
"Captain Pike's Error of Judgment"
As they crossed into Kansas, the guerrillas were spotted by troops from the garrison at Aubrey under the command of Captain Joshua A. Pike. Pike immediately notified the other Federal garrisons on the border, but neglected to notified any of the towns in Kansas. Brigadier-General Thomas Ewing, Jr. wrote about Pike's misstep in his official report on the matter:
Captain Pike, commanding at Aubrey, received information … that Quantrill had just passed into Kansas. Unhappily, however, instead of setting out at once in pursuit, he remained at the station, and merely sent information of Quantrill's movement ... By Captain Pike's error of judgment in failing to follow promptly and closely, the surest means of arresting the terrible blow was thrown away.
Encamped between Quantrill and Lawrence were about 22 new recruits of the 14 Kansas Cavalry Regiment. The mounted guerrillas charged the camp and trampled many of the soldiers, killing seventeen of them. A nearby encampment of the Second Kansas Colored Regiment was alerted and many of them were able to escape from the guerrilla attack, but several were killed.
One of the many tragic acts occurred when a guerrilla chased a Judge Louis Carpenter into his house, following him into the back yard. The guerrilla finally wounded Carpenter who fell to the ground. Carpenter's wife pleaded with the guerrilla and tried to shield Carpenter with her body. The guerrilla calmly walked over to them, pulled her arm away from her husband's head and blew his brains out. Several other men were shot in their homes and their houses fired by the guerrillas.
"Things Belonging To Southern People"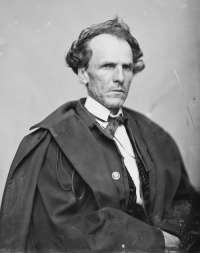 The number one man on Quantrill's list was Senator James H. Lane. Lane's home was located in West Lawrence, near the corner of present day 8 and Mississippi Streets. Lane was in Lawrence on August 21. Quantrill had intelligence that Lane was not in Lawrence and so did not go looking for him right away. As soon as Lane realized what was happening in Lawrence, he quickly left his house and hid in a large corn field just to the west, supposedly still dressed only in his nightshirt. Quantrill finally went to Lane's house and, speaking to Lane's wife, asked to see the Senator. Mrs. Lane said he was not at home.
According to John McCorkle,
In the parlor of Lane's house, there were three pianos and the boys recognized two of them as having belonged to Southern people in Jackson County, and a great many other things belonging to Southern people were found in his house.
Erastus D. Ladd was the son of an abolitionist who had emigrated to the Kansas Territory in 1854. He was present in Lawrence on the morning of August 21, 1863 and was an eyewitness to Quantrill's raid. Just nine days later, Ladd wrote a letter to his father describing what happened during the raid:
They broke into squads and rushed through all the streets, killing every man they saw … In the course of time it came our turn. I was in the cellar. A devil came to the door with a cocked revolver in his hand, and called Eliza out. He demanded if I was in the house. She told him I was not. He demanded her money, jewelry and arms. She gave him what she had. He then broke up some chairs, and tore up some books, piled them up in the dining room, and in the kitchen, and set them on fire. He was a Perfect demon … I heard the flames crackling and roaring over my head.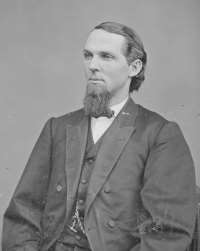 Sydney Clarke, the Assistant Provost-Marshal General for the District of the Frontier, lived in Lawrence on the 1000 block of Tennessee Street with his wife, Henrietta, and two young sons. Certain he was on Quantrill's "hit list," he narrowly escaped from the guerrillas and described the scene during his escape into a corn field:
I saw at a glance the danger we were in … the rebels were charging in all directions … and shooting down every man who appeared in the streets … I saw at once that it was an indiscriminate massacre, and … my only hope was to escape from the rear of the house. Telling my wife not to be alarmed, I ran out the back door, and passing through the hedge I ran up the hill.
One of the guerrillas that took part in the raid on Lawrence was John McCorkle, whose sister had been killed in the collapse of the Union prison building in Kansas City. Years later, McCorkle gave this eyewitness account:
Just before entering the town Colonel Quantrill turned to his men and said, "Boys, this is the home of Jim Lane and Jennison; remember that in hunting us they gave no quarter. Shoot every soldier you see, but in no way harm a woman or a child." … [we] remained in Lawrence about two hours and when [we] left, the town was in ashes and 175 Jayhawkers were dead … Quantrill and his command had come to Lawrence to be avenged and they were.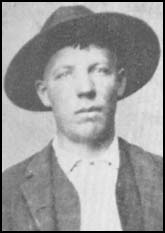 Cole Younger summed up the raid in his autobiography:
It was a day of butchery. Bill Anderson claimed to have killed fourteen and the count was allowed. But it is not true that women were killed. The death list that day is variously estimated at from 143 to 216 and the property loss by the firing of the town, the sacking of the bank, and the rest, at $1,500,000.
The death toll for the day was 160 civilians, men and boys, and 42 newly recruited Federal volunteers.
Image Credits
William C. Quantrill from Quantrill Border Wars by Connelley

John McCorkle from Three Years with Quantrell by McCorkle

Map of Quantrill's route to Lawrence, OR Atlas Plate 161 with annotations by Dick Titterington

Thomas Ewing, Jr. [LC-DIG-cwpbh-03226, image courtesy of the Library of Congress]

James H. Lane [LC-DIG-cwpbh-04323, image courtesy of the Library of Congress]

Sydney Clarke [527639] courtesy of the National Archives

Cole Younger courtesy of Wikimedia Commons
References
Castel, Albert E. William Clarke Quantrill : his life and times. Norman: University of Oklahoma Press, 1999. [p. 124-134]
Connelley, William E. Quantrill and the border wars. Cedar Rapids, Iowa: The Torch Press, 1910. [p. 308-316, 328]
Edwards, John N. Noted Guerrillas, or, The Warfare of the Border. St. Louis, Mo.: Bryan, Brand & Company, 1877.
McCorkle, John. Three years with Quantrill : a true story told by his scout, John McCorkle. Armstrong, Missouri: Armstrong Herald Print, 1914. [p. 120-129]
Nichols, Bruce. Guerrilla Warfare in Civil War Missouri: Volume II, 1863. Jefferson, North Carolina: McFarland & Company, Inc. 2007. [p. 213-215]
Six, Fred N., Editor. Eyewitness Reports of Quantrill's Raid: Letters of Sophia Biddell & Sidney Clarke. Kansas History: A Journal of the Central Plains 28 (Summer 2005): 94–103.
United States War Department, The War of the Rebellion: A Compilation of the Official Records of the Union and Confederate Armies, 70 volumes in 4 series. Washington, D.C.: United States Government Printing Office, 1880-1901. Series 1, Volume 22. [Part 1, p. 580; Part 2, p. 393, 402-403]
Williams Burton J. "Erastus D. Ladd's Description of the Lawrence Massacre" Kansas Historical Quarterly Summer 1963 (Vol. 29, No. 2), pages 113 to 121.
Younger, Cole. The Story of Cole Younger, by Himself. Chicago: The Henneberry Company, 1903.
Dick Titterington, August 20, 2013.
Last changed: Aug 21 2013 at 8:00 AM
Back