This map is on display at the Battle of Westport Museum an Visitor Center in Kansas City, Missouri. The map is based on the expedition's map published in the Official Records Atlas.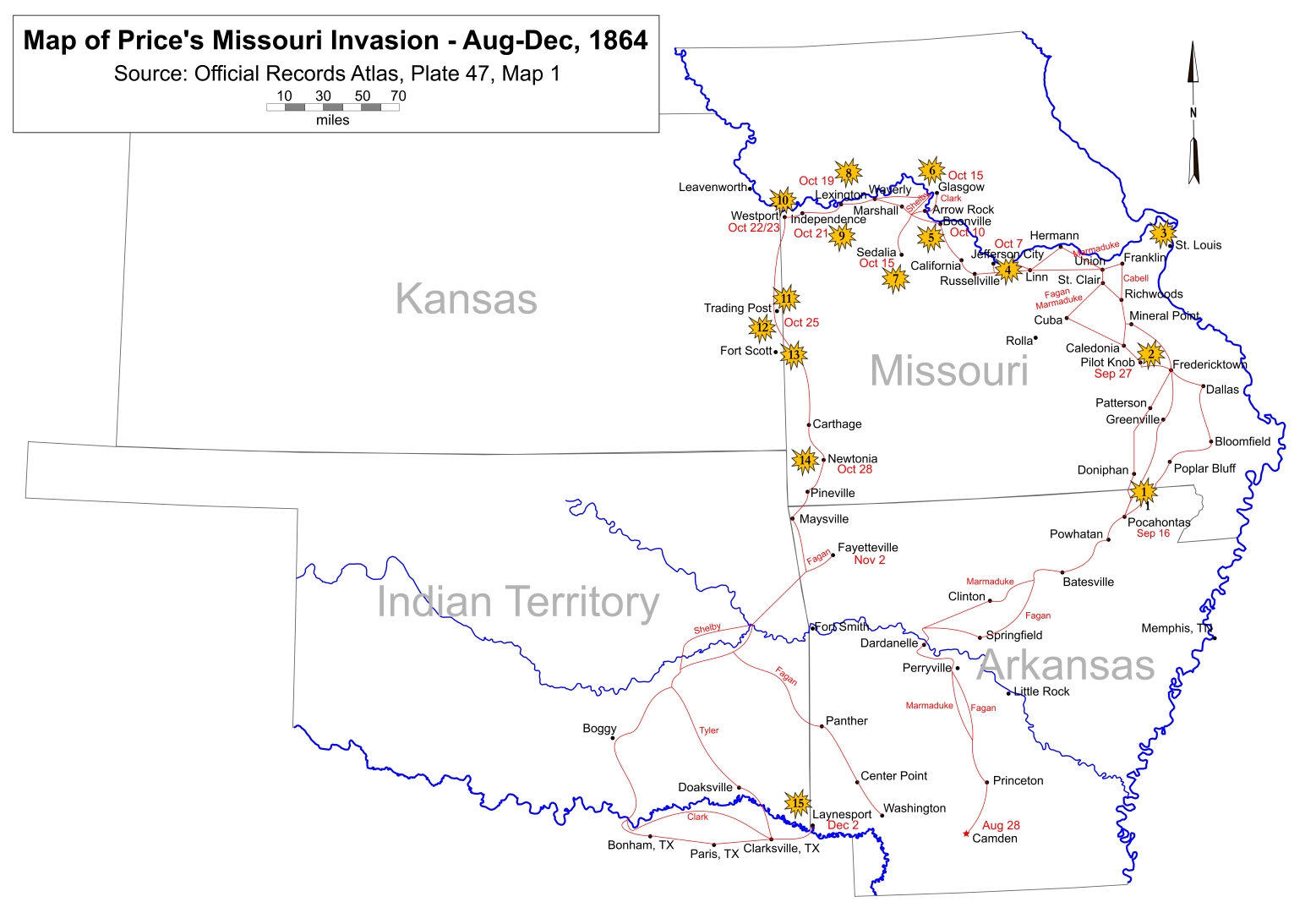 9/19—Price's Army of Missouri enters Missouri. Maj. Gen. Sterling Price reports his army made up of 12,000 cavalry although 4,000 of his men are unarmed.
9/27—Battle of Pilot Knob (Fort Davidson). Brig. Gen. Thomas Ewing, Jr. is in command of about 1,200 Federal volunteer infantry. Price attacks Fort Davidson but is unable to capture the fort. Ewing and his men evacuate that night and are able escape.
Maj. Gen. William S. Rosecrans is able to fortify St. Louis with reinforcements. Price decides not to attack and turns west towards Jefferson City.
10/7—Rosecrans has ordered reinforcements to Jefferson City. After some skirmishing, Price decides against a full out assault and heads for Boonville.
10/10—Given a hero's welcome by the citizens of Boonville, Price remains there for several days.
10/15—Price detaches forces under Brig. Gen. John B. Clark, Jr. to attack Glasgow and bring back weapons and supplies from a Federal storehouse.
10/15—Price detaches forces under Brig. Gen. M. Jeff Thompson to attack Sedalia and bring back weapons, horses and supplies from the town.
10/19—Price heads for Lexington, encounters Federal cavalry from the Army of the Border under the command of Maj. Gen. James G. Blunt, who is outnumbered and withdraws from Lexington.
10/21—Price attacks Federals under the command of Col. Thomas Moonlight at the Little Blue River east of Independence. By the end of the day, the Federals withdraw to the Big Blue River.
10/22—23—On Saturday, Price attacks and breaks the Federal defenses at Byram's Ford on the Big Blue River. The Federal commander, Maj. Gen. Samuel R. Curtis, orders his forces to fall back to Westport and Kansas City. Federal cavalry from the Department of the Missouri, under the command of Maj. Gen. Alfred Pleasonton, attacks the Confederate rear guard in Independence. On Sunday just south of Brush Creek, Confederate forces under the command of Brig. Gen. Jo Shelby attacks Federals commanded by General Blunt. General Pleasonton attacks the Confederate defenses at Byram's Ford and forces a crossing. By 1:00 p.m. the Confederate forces are withdrawing south towards New Santa Fe.
10/25—Federal pursuit of Price's retreating army catches up just after midnight on October 25 near Trading Post at the Marias des Cygnes River. Skirmishing occurs at night during a driving rain storm.
10/25—Federal pursuit catches up with Price's wagon train still trying to get across Mine Creek. Two Federal brigades under the command of Lt. Col. Frederick W. Benteen and Col. John F. Philips attack two Confederate divisions under the command of Maj. Gen. John S. Marmaduke and Maj. Gen. James F. Fagan. The Federal cavalry charge breaks the Confederates, capturing General Marmaduke and Brig. Gen. William L. Cabell.
10/25—Federal pursuit catches up to Confederate rear guard at Charlot's Farm on the Marmaton River. The skirmish is a draw but Price decides to burn all non-essential wagons. The retreat south continues.
10/28—The final battle of Price's Raid occur near Newtonia. General Blunt attacks the Confederate rear guard, but is beaten back by Shelby's counterattack.
12/2—Price's army continues its retreat into Arkansas and then the Indian Territory. The remnants of Price's army finally reach Laynesport, Arkansas, having travelled over 1,400 miles during the raid into Missouri.
Last changed: Jul 08 2018 at 10:56 AM
Back