I will be teaching a class this fall through SPARK (Senior Peers Actively Renewing Knowledge).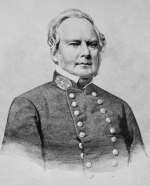 This class tells the story of Sterling Price's 1864 Cavalry Raid into Missouri during the American Civil War. The main events during this raid were the Battles of Byram's Ford and Westport that took place right here in Jackson County.
This story is told by the participants themselves using their own words from official reports, diaries or works published following the war. Photographs of the participants and sketches and photos of battle sites will be shown during the class.
After the class room sessions are complete, there will be a field trip in May to local battlefield sites at Byram's Ford and Loose Park.
The class starts on Tuesday, September 24, 2013 and runs for six weeks ending on October 29. The class starts at 1:00 p.m. and ends at 3:00 p.m. The classes will be held in the SPARK classroom (Room 102) at 301 E 51st Street, Suite 101, Kansas City, MO 64112.
If you live in the Kansas City, Missouri area and are interested in taking this class, please visit the SPARK website to sign up.
For More Information About the Class
Last changed: Jul 07 2013 at 3:24 PM
Back