As early as August 19, 1863, the Federals in the District of the Border began to hear about the movement of a large body of guerrillas. Individual commanders began to react to this new information.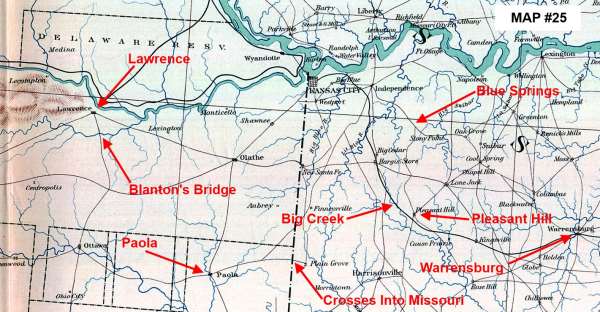 Federal Pursuit Timeline
Lieutenant-Colonel Bazel F. Lazear, First Cavalry, Missouri State Militia, was in Warrensburg, Missouri when he learned on August 20 that Quantrill and an large band of guerrillas has passed through the area on August 19 and were headed west. He quickly send messages to his forces at Lexington and Harrisonville to meet him at Chapel Hill, Missouri with all available men.
It was around 3:00 p.m. on August 20 that the garrison at Aubrey under the command of Captain Joshua A. Pike had noticed a large force of guerrillas entering Kansas.
Captain Charles F. Coleman, Ninth Kansas Cavalry, was the commander of the garrison at New Santa Fe, Missouri in August of 1863. He was notified at 8:00 p.m. by Captain Pike in Aubrey, Kansas that a large guerrilla force had passed about five miles south of Aubrey headed into Kansas. By 9:00 p.m. Captain Coleman was on the move with his force of 80 cavalrymen. Around 11:00 p.m. he joined up with Pike's 100-strong force at Aubrey an the Federals set out after Quantrill. From Aubrey, Coleman notified his superior officer, Lieutenant-Colonel Charles S. Clark who was with the garrison at Coldwater Grove. Coleman found it difficult to follow the guerrillas trail at night.
With Brigadier-General Thomas Ewing, Jr. in Leavenworth, his Chief-of-Staff, Major Preston B. Plumb, was in command in Kansas City. Becoming alerted to Quantrill's movements around 11:30 p.m. on August 20, Plumb was able to set out from Kansas City with a detachment of 50 troopers and go after Quantrill by 1:00 a.m. on August 21.
By the time the Federals reached Gardner, the Federals discovered that it had been six hours since Quantrill had been through Gardner. By this time, the Federal horses were getting played out. They soon saw the smoke from the fires of Lawrence and started out for that town.
On August 20, Brigadier-General Thomas Ewing, Jr. had gone to Leavenworth, Kansas on official business. Because of this Ewing would not find out about Quantrill's raid until 8:00 a.m. on August 21.
Around 9:00 A.M. on August 21, lookouts that Quantrill had posted spotted Federal troops approaching off in the distance. Quantrill's guerrilla force left Lawrence taking a southerly route out of town. Dick Yeager would serve as Quantrill's guide, Yeager having been a freighter in Kansas before the war. The guerrillas set fire to many of the buildings they encountered on their way back to Missouri. They headed south from Lawrence down the Fort Scott Road crossing the Wakarusa River at Blanton's Bridge.
Major Plumb joined up with the combined commands of Coleman and Pike about 6 miles south of Lawrence at 10:30 a.m.
By this time, the Federals had been joined by around 50-100 Kansas militia being led by James H. Lane. But now the Federal horses were exhausted having traveled many miles without time for rest or food.
Ewing commandeered six companies of cavalry, numbering about 300, that were in the process of being outfitted and left Fort Leavenworth around 1:00 p.m. on August 21. Ewing never did catch up to the guerrillas before they had dispersed into the brush of Jackson County.
Quantrill deployed his best men and horses to act as a rear guard and they were very effective against the pursuing Federals. Plumb's forces skirmished with Quantrill's rear guard near Paola, Kansas. By this time, Lieutenant-Colonel Charles S. Clark had arrived in the vicinity of Paola and had formed his men at the ford across Bull Creek about three miles south of Paola. But Quantrill discovered the trap and was able to skirt around the Federals.
By late evening on August 21, Lazear had a force of about 280 cavalry at Chapel Hill. The next day Lazear set out for Lone Jack.
Lazear came upon Quantrill's band about 5 miles northwest of Pleasant Hill on Big Creek. Both sides formed in line of battle, but the guerrillas quickly withdrew only to form again about a mile away on a ridge. Lazear skirmished with the guerrillas for a short time after which the guerrillas withdrew and dispersed into the brush.
Clark and Plumb joined up near Paola and realized that Quantrill had escaped. Lt-Col. Clark was the ranking officer and took command of the combined forces. The Federals waited until morning on Aug 22 to resume their pursuit. By this time Quantrill had a 15 mile lead. Quantrill crossed the border back into Missouri around noon on August 22. The Federals followed into Missouri for a few miles before turning back to Kansas.
"Lawrence Must Be Avenged"
The following was published in the August 22 edition of the Leavenworth Daily Times newspaper:
Kansas has been invaded and many of her best citizens murdered by rebel outlaws from Missouri … The destruction of Lawrence must be avenged … These marauders from Missouri have set "mischief afloat," and woe betide their sympathizers all along the border … They must be punished and exterminated wherever found. The sword of vengeance is unsheathed.
"Swift And Cruel Retribution"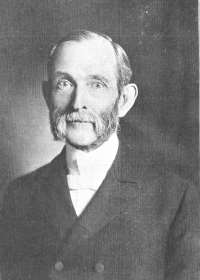 George Miller was born in South Carolina in 1834. His father was opposed to slavery and moved the family to Illinois in 1856. George Miller became a Presbyterian minister in 1859 and spent that summer in the Kansas Territory. In June 1860, Miller became the minister for a church in Pleasant Hill in Cass County, Missouri.
The Reverend George Miller witnessed the revenge of Kansas troops in Cass county following Quantrill's Lawrence raid.
The Lawrence raid was followed by swift and cruel retribution … The Kansas troops followed [Quantrill] at a respectful distance, and visited dire vengeance on all western Missouri. Unarmed old men and boys were accused and shot down, and homes with their now meagre comforts were burned, and helpless women and children turned out with no provision for the approaching winter.
"You Are A Dead Dog"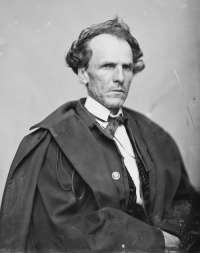 After barely escaping Lawrence with his life, James H. Lane wanted revenge on Quantrill but more so on Missouri for harboring Quantrill. But not being able to get to Quantrill, Lane would take it out on Brigadier-General Thomas Ewing, Jr. Ewing finally caught up with Lane on August 22 near the place where Quantrill had crossed back into Missouri after the raid. Lane let Ewing know that he held Ewing completely responsible for the atrocities in Lawrence and that Lane would do everything in his power to have Ewing's career ruined.
Lane also threatened to raise a militia, lead it across the border into Missouri and take matters into his own hands. Ewing tried to reason with Lane by describing his plans to implement a new policy that would include the forcible removal of everyone from the Missouri border counties. Lane decided to give Ewing a chance to get control of the situation. But when they parted, Lane is supposed to have said the following to Ewing:
You are a dead dog if you fail to issue that order as agreed between us.
"Lawrence Is In Ashes"
The Governor of Kansas, Thomas Carney, also wanted to hold Missouri responsible for the Lawrence massacre and expressed these feelings in an August 24 letter to Major-General John M. Schofield:
Disaster has again fallen on our State. Lawrence is in ashes. Millions of property have been destroyed, and, worse yet, nearly 200 lives of our best citizens have been sacrificed. No fiends in human shape could have acted with more savage barbarity than did Quantrill and his band … I must hold Missouri responsible for this fearful, fiendish raid … Such people cannot be considered loyal, and should not be treated as loyal citizens.
"Burn and Destroy Everything"
Not satisfied with Ewing's plans, James H. Lane went into action. He organized a meeting to be held in Leavenworth, Kansas on August 26. At this meeting Lane called for Kansans to meet in Paola, Kansas on September 8 for the purpose of invading Missouri. The Kansas Legion would assemble at Paola and invade the border counties of Missouri to retrieve the stolen property taken from Lawrence and retaliate for the atrocities committed by Quantrill in Lawrence.
[Rise] en masse for the purpose of marching into Missouri to burn and destroy everything for a distance of forty miles from the Kansas border, and to avenge the outrages committed by Quantrill and his band at Lawrence.
"I Will Have To Clear Out A Good Many Rebels"
Ewing sent a message to Schofield about what went on at the meeting in Leavenworth. Both Ewing and Schofield were concerned that Lane would actually be able to pull off his planned invasion of Missouri. On August 26, Schofield send a message to Ewing warning him that he could "not permit irresponsible parties to enter Missouri for retaliation; whatever of that is to be done must be by your troops, acting under your own orders." On August 26, Ewing sent back the following reply:
I shall not permit any unauthorized expedition into Missouri. No citizens are in now, and none went in except with my troops … The people of Kansas are mortified and exasperated, and those on the border considerably alarmed. I will have to clear out a good many rebels in Independence, Westport, and Kansas City.
"No Prisoners Have Been Taken"
On August 27, Ewing sent a message to Schofield explaining the progress of the Federal pursuit:
Quantrill's men are scattered in their fastnesses throughout the border counties, and are still being hunted by all available troops from all parts of the district. Many of them have abandoned their worn-out horses and gone to the brush afoot. … No prisoners have been taken, and none will be. All the houses in which Lawrence goods have been found have been destroyed, as well as all the houses of known guerrillas, wherever our troops have gone.
Schofield Closes Border to Troops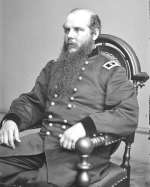 On September 4, Major-General John M. Schofield issued General Orders, No. 92 in the Department of the Missouri:
The militia of Kansas and Missouri … will be used only for the defense of their respective States. They will not be permitted to pass from one State into the other, without express orders from the district commander. No armed bodies of men … will be permitted, under any pretext whatever, to pass from one State to the other.
Citing General Orders, No. 92, Brigadier-General Thomas Ewing, Jr. ordered Colonel William Weer, Tenth Kansas Infantry, to proceed to Coldwater Grove to " take steps to prevent the threatened invasion of Missouri by Kansas men not in the service of the United States; and, in case of such invasion, [to] expel the invaders. You will see that the line is thoroughly patrolled, to prevent such movement from Little Santa Fé to the southern boundary of this district."
James H. Lane, Charles R. Jennison and George Hoyt (leader of the Kansas Red Legs) spent the days leading up to September 8, crossing the State in order to get the word out about the assembly in Paola. Although they was expecting up to 8,000 only a few hundred actually showed up. Lane ended up abandoning his planned invasion and gave the assemblage a rousing speech instead.
Image Credits
William C. Quantrill, WICR 31406 in the collection of Wilson's Creek National Battlefield, image courtesy of the National Park Service

Map of Federal Pursuit of Quantrill, OR Atlas Plate 161 with annotations by Dick Titterington

Preston B. Plumb, WICR 31785 in the collection of Wilson's Creek National Battlefield, image courtesy of the National Park Service

Thomas Ewing, Jr. [LC-DIG-cwpbh-03226, image courtesy of the Library of Congress]

George Miller from Missouri's Memorable Decade by Miller

James H. Lane [LC-DIG-cwpbh-04323, image courtesy of the Library of Congress]

Thomas Carney from Rebel Invasion by Hinton

John M. Schofield [LC-DIG-cwpb-05934, image courtesy of the Library of Congress]
References
Britton, Wiley. The Civil War On the Border. Volume 2 New York: G. P. Putnam's Sons, 1899.
Castel, Albert E. William Clarke Quantrill : his life and times. Norman: University of Oklahoma Press, 1999.
Connelley, William E. Quantrill and the border wars. Cedar Rapids, Iowa: The Torch Press, 1910.
Connelley, William E. Life of Preston B. Plumb. Chicago: Browne & Howell Company, 1913.
Miller, George. Missouri's Memorable Decade, 1860-1870: An Historical Sketch, Personal, Political, Religious. Columbia, Missouri: Press of E. W. Stephens, 1898.
Nichols, Bruce. Guerrilla Warfare in Civil War Missouri: Volume II, 1863. Jefferson, North Carolina: McFarland & Company, Inc. 2007.
United States War Department, The War of the Rebellion: A Compilation of the Official Records of the Union and Confederate Armies, 70 volumes in 4 series. Washington, D.C.: United States Government Printing Office, 1880-1901. Series 1, Volume 22.
Notes
Last changed: Aug 25 2013 at 6:53 AM
Back