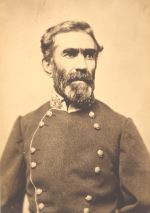 It's July 1864 and events are not going well for the Confederate States of America. Union Lt. Gen. Ulysses S. Grant has Confederate General Robert E. Lee under siege at Petersburg, Virginia. Union Maj. Gen. William T. Sherman has Confederate General John B. Hood under siege at Atlanta, Georgia. In late July, General Braxton Bragg sent the following letter to General Kirby Smith, commander of the Confederacy's Trans-Mississippi Department. Bragg's purpose was to make Smith understand that the survival of the Confederacy depended on Smith moving his forces eat of the Mississippi River.
[There is a] pressing necessity for the movement of your troops across the Mississippi River. At Petersburg General Lee has a formidable army in his front … General Hood's army has retired to the immediate vicinity of Atlanta, and Sherman is threatening that place with an army superior in numbers … Every available man in General Hood's department has been sent to the front … Still more troops are urgently needed.
A number of individuals thought Missouri was a place that could provide men to fight for the Confederacy. Confederate forces had been driven out of the state of Missouri in the beginning of 1862. However, this did not bring peace to the state as the guerrilla war continued unabated. Operating out of Arkansas, Confederate troops had conducted several cavalry raids into Missouri during 1862 and 1863. But in 1864, Union forces had control of the state and only Confederate partisans operated within Missouri's borders. A number of individuals were eager for Confederate armed forces to enter the state.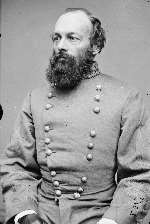 Maj. Gen. Sterling Price, commanding the Confederate District of Arkansas, had been lobbying for an invasion of his home state of Missouri for many months. Price's informants in Missouri had told him there were thousands of men who were eager to fight for the Confederacy. On July 23, 1864, Price wrote his superior officer, General Kirby Smith, commanding the Confederate Trans-Mississippi Department.
The accumulating testimony of the state of affairs in Missouri derived from private individuals, private letters, and the public prints, show that the Federals have but few reliable forces in the State, their garrisons being manned almost entirely with their State militia, in whose loyalty they have but little confidence. … I am also assured that the Confederate flag floats over nearly all the principal towns of North Missouri, and large guerrilla parties are formed and operating in the southern portion of the State. These facts indicate the feelings of the people of the State, who fear that the increasing desire of the North for peace, and the unparalleled and continued successes of our armies, may bring about a cessation of hostilities and a negotiation for boundaries, without our army being in possession of any portion of the State. To give us this military possession, as well as to encourage our friends there, I respectfully but urgently suggest the propriety of making a move into the State for the purpose of concentrating and organizing these detached parties, which, when brought together, the least sanguine seem to think will amount to not less than 30,000.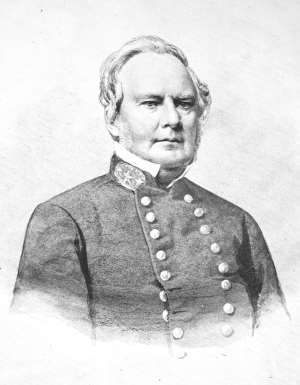 Price received the order to invade Missouri from Kirby Smith On August 4, 1864.
You will make immediate arrangements for a movement into Missouri, with the entire cavalry force of your district. General Shelby should be instructed to have his command in Northeast Arkansas ready to move by the 20th instant. You can instruct him to await your arrival with the column immediately under your command. A brigade of Louisiana troops, under Colonel Harrison, has been ordered to report to you. They should be added to General Marmaduke's command, and with his old brigade constitute his division. General Clark should be transferred to the command of Marmaduke's old brigade. Colonel Greene should be left in Arkansas, together with the other regimental commanders whose mutinous conduct has already proved them unfitted for command. General Shelby's old brigade, increased by the one raised in East Arkansas, can be organized into a division under his immediate command. General Fagan will command the division composed of Cabell's and Crawford's brigades. These skeleton organizations are best adapted for an expedition in which a large addition to your force is expected. These weak brigades should be filled by the regiments raised in Missouri, and you should scrupulously avoid the organization of any new brigades. You will carry a supply of ammunition for General Shelby's command in Northeast Arkansas, and should yourself be provided with ammunition sufficient for the expedition. You will scrupulously avoid all wanton acts of destruction and devastation, restrain your men, and impress upon them that their aim should be to secure success in a just and holy cause and not to gratify personal feeling and revenge. Rally the loyal men of Missouri, and remember that our great want is men, and that your object should be, if you cannot maintain yourself in that country, to bring as large an accession as possible to our force. Your recruits will in all probability be mounted; deal frankly with them, and let them understand that mounted organizations, made there through necessity, are liable to be dismounted on their arrival in our lines, where forage and subsistence will not admit the maintenance of so large a cavalry force. Make Saint Louis the objective point of your movement, which, if rapidly made, will put you in possession of that place, its supplies, and military stores, and which will do more toward rallying Missouri to your standard than the possession of any other point. Should you be compelled to withdraw from the State, make your retreat through Kansas and the Indian Territory, sweeping that country of its mules, horses, cattle, and military supplies of all kinds. The division of General Fagan, the senior officer of your command, should be increased as soon as practicable.
Last changed: Jul 08 2018 at 3:20 PM
Back