| | |
| --- | --- |
| The Civil War Classics series from Trans-Mississippi Musings brings the best of the works by authors who were present during the American Civil War in those states and territories west of the Mississippi River. These are public domain works, which I have reformatted as eBooks. For the second volume in this series, I have chosen Shelby and His Men by John Newman Edwards. | |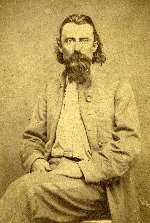 Joseph Orville "Jo" Shelby was an affluent Missourian living in Waverly, Missouri at the start of the Civil War. By the end of the war, Jo Shelby was recognized as one of the great Confederate Cavalry leaders in the country.
When war broke out in Missouri, Shelby became the Captain of a cavalry company in the Missouri State Guard. Shelby is probably best known for his "Great Raid" into the State of Missouri during the fall of 1863. His legend grew as part of the Army of Missouri during the cavalry raid led by Sterling Price in the fall of 1864. While Shelby's Division engaged with the enemy during the Battle of Westport, Marmaduke's Division had to withdraw from its defense line at Byram's Ford, exposing the flank of Fagan's Division. As Sterling Price's Army of Missouri retreated south, Jo Shelby rallied his division a few miles south of Westport and held off the enemy while the Confederate army escaped. Just two days later, after both Marmaduke's and Fagan's Divisions were routed at Mine Creek, Price once again asked Shelby to protect the retreat of the shattered Confederate army. When the Confederate authorities in the Trans-Mississippi heard of Robert E. Lee's surrender, Jo Shelby argued for continuing the fight by consolidating Confederate military resources in Texas. When that did not happen, Shelby refused to surrender and led about one thousand of his men into exile in Mexico where he hoped to re-establish a Southern Confederacy. The alliance with Mexico did not work out, and Shelby returned to Missouri in 1867.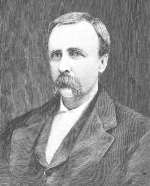 Born in Virginia, John N. Edwards got an early start as a typesetter in the newspaper business. Still a teenager when he moved to Missouri, Edwards continued a career in the newspaper business, settling in the Missouri River town of Lexington, Missouri. When Shelby returned to Lafayette County, Missouri in 1862, Edwards volunteered to join Shelby's Regiment. By September 1863, Major John Edwards was serving as the Adjutant for Shelby's Brigade. So Edwards is able to provide an eyewitness account for a good part of Shelby's exploits.
After the war, Edwards went to Mexico with Shelby. He also returned to Missouri in 1867 to restart his newspaper career. In 1868, Edwards joined his former Confederate comrade, John C. Moore, to start the Kansas City Times. The Times staunchly supported Democratic Party ideals in opposition to the Radical Republicans during Reconstruction in Missouri.
John Edwards was very descriptive in his writing and decidedly biased in favor of the Southern cause. He was also unapologetic about this bias. Most Southerners were heroic and most men fighting for the Union were of a low character with few scruples. In this regard, Edward's book about Shelby has an epic quality, and he makes it clear who were the "good guys" and who were the "bad guys."
The warfare carried on upon the borders of Arkansas and Missouri by the Federals was cruel and unsparing. Old men were murdered, women violated, and even boys were made to answer for the loyalty of their fathers.
Sometimes it's hard to set aside the irony of how Edwards describes the depredations that were all too common during the fighting in Missouri. When performed by the Federals it was "cruelties of these cowardly abolitionists" But when performed by Shelby's raiders, it was honorable for "there is nothing perfect in life."
Now don't get me wrong. The Federals generally did treat known or suspected Secessionists very badly. But when the Confederates were in Missouri, they treated known or suspected Unionists very badly as well. If they were believed to have preyed upon Southern sympathizers, they might be "tried" upon the spot and executed. There was plenty of bad blood and bad behavior on both sides.
Edwards was always effusive in his praise for Shelby and the men who served under him. Here he writes about the Confederate brigade that would come to be known as Shelby's Iron Brigade.
Always where danger was greatest and where the red waves swallowed up the truest and bravest, it never wavered beneath the calm eyes of its leader, nor faltered in the charge when his clear voice urged it on.
But then Edwards describes the scenes around the campfire after Shelby returned safely to Arkansas at the end of his "Great Raid" into Missouri. You can almost picture the scene and think everyone is relieved to be back to a somewhat normal wartime existence.
I can recall many faces gleaming bright and happy in the ruddy firelight. At the central fire, rough with great logs and crammed with seasoned rails, sat Shelby and Shanks, Hooper and Gordon, talking, smoking, and telling incidents of the march … Blackwell humming some snatches of battle songs, and watching the blue smoke curling up lazily from his captured meerschaum … Ingram and Pat Marshall filing notches in their pistol-butts for Federals killed in manly combat … Dickey binding up the ragged wound of Captain Lea, and pouring confidence into his comrade's heart … [many are] happy in the calm, still night, and forming bright plans for the future, while the inimitable, agreeable, gasconading, irrepressible Morry Boswell—"Uncle Morry"—darting in and out amid the fires with a word and a joke for all.
When the book was published in 1867, John Edwards included two images, one of Jo Shelby and a map "Exhibiting the Marches and Engagements of Shelby's Cavalry during the Confederate War." Instead of the image of Shelby included in Edwards' original book, I have chosen to include my favorite photograph of Jo Shelby courtesy of the National Park Service. I have also added an image of Edwards published in his memoirs in 1889.
Last changed: Nov 08 2013 at 8:25 AM
Back