If I were a professional historian, I probably could not get away with calling this series of blog posts, "Reconstruction in Missouri." When folks think about the reconstruction period following the American Civil War, they focus on the reconstruction of the states that seceded from the Union. And, depending on who you talk to, Missouri never left the Union. At the very least, Missouri remained under Union control throughout the war.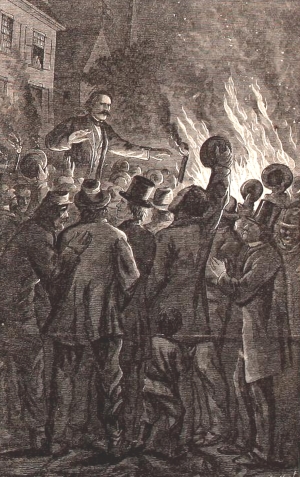 Campaigning in Missouri
But the "Reconstruction" period in Missouri actually started in 1864, well before the end of the war. It began when the Radical Republicans swept the elections in November 1864 and took control of the state government. Although I am oversimplifying some, their primary agenda was abolishing slavery and punishing those Missouri citizens who rebelled against the United States of America and the state of Missouri. Punishment would come in the form of the United States.
As we take this journey, we'll encounter some familiar names and some new names. Frank Blair, who was instrumental in keeping Missouri in the Union at the start of the war, is appalled at the tactics of the Radical Republicans, returns home, and fights them at every turn. Charles D. Drake, elected as a Democrat before the Civil War began, switches to the Republican Party and takes on the cause of abolishing slavery in Missouri. Drake led the movement to rewrite the State's Constitution, disenfranchising the disloyal and forbidding them to hold public office, essentially removing their rights as citizens of Missouri.
But the draconian measures in the newly adopted constitution ends up causing a split in the Republican Party in Missouri. By 1870, Democrats have formed a coalition with Liberal Republicans and regained control of state government. The brief reign of the Radical Republicans comes to an end, as Democrats work to consolidate their power.
| | |
| --- | --- |
| Frank Blair | Charles D. Drake |
Last changed: Nov 22 2018 at 8:23 AM
Back