Chris Edwards and I recently published the book, Quantrill's Revenge: A Comprehensive Tour Guide to William C. Quantrill's Raid of Lawrence, Kansas. This online tour is not a substitute for buying our book, which is available in the Amazon catalog. But it will give you an idea of what the tour covers and provide access to high resolution versions of the tour's maps. The online tour will provide you with a list of the tour stops, along with a selection of images related to that tour stop. Associated with each tour stop is a map showing the general location of the tour stop.
Link to Quantrill's 1863 Lawrence Raid virtual tour.
Here's a map of Quantrill's route covered by the online tour. Click on the thumbnail to load a high resolution version of the map.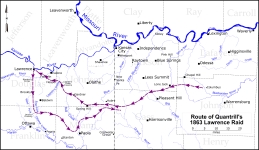 Last changed: Oct 27 2017 at 7:45 AM
Back