theCivilWarMuse is collaborating with the Monnett Battle of Westport Fund to restore portions of the Big Blue Battlefield and create a self-guided walking tour of the Big Blue Battlefield. I have put some early drafts of the tour out on my website, TransMississippiMusings.
Big Blue Battlefield Walking Tour Overview Map (click for larger image)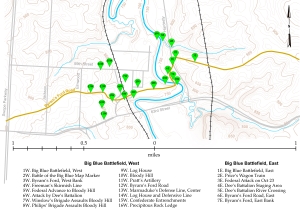 Please note that this is a work in progress. Not all of the current set of tour stops may make the final cut. Here's is a map of the current draft of the tour. Not all of these stops have been published to the web yet. I will keep plugging away at it.
Providing a good battlefield experience for visitors has ben quite a challenge because much of the battlefield site was developed as an industrial park in the 1950s and 1960s. The Monnett Battle of Westport Fund has facilitated the acquisition of a number of properties, some of which have been demolished or are in the prcess of being demolished. Key portions of the battlefield such as Byram's Ford are listed on the National Register of Historic Sites. Today, a considerable portion of the Big Blue Battlefield is owned by the city of Kansas City, Missouri. Some of these properties have been formed into the Big Blue Battlefield Park. Restoration work continues, but I wanted to get the latest information out to the public who might be interested in visiting this battlefield.
In addition to deploying this tour to the website, we will publish he tour in eBook form. The intent is to use the eBook on the battlefield with an internet enabled smart phone or tablet.
Tweet any feedback to @theCivilWarMuse.
Last changed: Feb 25 2015 at 9:58 AM
Back