To help folks have a better battlefield experience, we have put together a self-guided walking tour for the Big Blue Battlefield in Kansas City, Missouri. As part of this tour, you willl be able to experience walking on portions of the Historic Byram's Ford Road and see where Byram's Ford crossed over the Big Blue river. The battlefield resoration is still a work in progress. Until we get more permanent markers, some of the tour stops are identified with a temporary marker like the one in this photo.
The Battle of Westport was a series of engagements taking place over a three-day period in October 1864. Many of the battlefield sites have been consumed by the growth of Kansas City and Independence. Since 1983, the Monnett Battle of Westport Fund has been working to preserve a small portion of the battlefield along the Big Blue River just north of Swope Park in Kansas City. The result is the Big Blue Battlefield Park, part of the Kansas City parks system. But it is not your typical city park with swing sets and tennis courts.
This section of the Big Blue Battlefield was added to the National Register of Historic Places in 1989. The Monnett Fund continues to restore and interpret this part of the battlefield. This self-guided tour interprets those areas of the battlefield accessible today by car and by foot. Although this area of the battlefield was the scene of fierce fighting on both October 22 and 23 in 1864, this tour focuses on the events of October 23, 1864.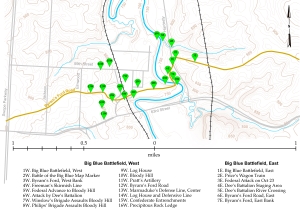 Big Blue Battlefield Walking Tour Overview Map (click for larger image)
The self-guided tour has two main driving stops, each containing a number of walking tour stops. The first stop described is on the east side of the Big Blue River. The second stop describes battlefield sites located on the west side of the river. During the walking part of the tour, you will find the trails range from easy to moderate in difficulty. We strongly recommend you wear sturdy hiking boots or shoes and long sleeves and pants. During the warm weather months, you should use insect repellent (primarily to discourage ticks) and be on the lookout for poison ivy, which is very common in Missouri's woodlands. We hope you enjoy your tour of the Big Blue Battlefield.
Get a copy of the pdf version of the self-guided tour here.
Last changed: Apr 14 2016 at 1:52 PM
Back