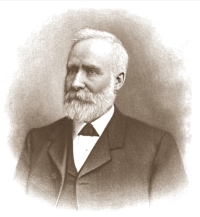 Augustus Byram and his brother Peter owned a 250 acre farm on the west bank of the Big Blue River. Their father Augustine Byram, was cousin of Susan Waddell wife of one of the owners of freighting company of Russell, Majors and Waddell where Augustine worked as a teamster/freighter. In 1838 he purchased the site of Bloody Hill, known as Potato Hill before the battle on October 23, 1864. Sometime in 1845 Peter and Augustus Byram, with their mother, arrived from Kentucky. At the time of the 1850 Census, their mother lived in the log house (see tour stop 11W Log House on page 85) with Peter Byram and one of his sisters. In 1850, Peter's brother, Augustus, left for the California gold fields. Their father, Augustine, died in 1848, leaving the farm to Peter and Augustus. By the time of the battle the Byrams had sold the farmstead, and were working for the freighting firm of Russell, Majors and Waddell. The Byram's farmstead was purchased in 1856 by William Adams. Because of Order Number 11, Adams and his family had left the log house in 1863 and gone to live in Leavenworth Co, Kansas. The following biographical sketch of Augustus Byram was published in the Encyclopaedia of Biography of Illinois.
The subject of this sketch, late banker and capitalist of Chicago, was born in Kentucky, in the city of Lexington, September 21, 1822. His parents and more distant ancestors were natives of the Blue Grass State, and he was personally related to it by twenty years of residence within its borders and the education with which its schools in part prepared him for the distinguished place he was destined to all in the fields of business and finance. Though an enterprising youth, and one who, from an early age, looked forward to a successful career of some kind, Mr. Byram possessed the patience which enables one to "bide his time," and the sagacity to take full advantage of his opportunity when it presents itself. His school days ended, lie was variously employed in Lexington until 184!), when the discovery of gold in California sent thousands of the more adventurous young men to the Pacific coast. Mr. Byram, in no wise averse to the fortune, which as a possibility lured toward the West, vet mistrustful of the fever and haste of the multitude, deliberately applied himself to the commercial side of the enterprise. With a complete equipment of ox-teams and heavy wagons, he established himself as one of the pioneer freighters so indispensable during that phenomenal migration and did a very extensive business, traversing the old Santa Pc route by way of St. Joe, Missouri, and El Paso, Texas, to the gold fields. In this way he became familiar with the physical features of the intervening country, and came to the conclusion that not all of the mineral wealth was stored at the end of the line. In due time the counter current set in—the eastward wave of adventurers with its abundant constituency of disappointed prospectors. Tint these latter had at least learned how to dig and were inured to the hardships of the milling camps of California. They needed but new promise of the coveted reward to reawaken their enthusiasm, and a considerable number of them were fitted out by Mr. Byram and sent to new fields. As was to be expected, most of the mines located yielded small returns, but our subject persevered and his patience was at length richly repaid. In 1874, the discovery in Utah of the "Horn Silver Mine," the second in size in the United States, placed Mr. Byram among the large capitalists of the West. For several years he was sole proprietor of the Horn mine, from which, during its operation, ore to the amount of $25,000,000 was obtained, and throughout the "seventies" he was one of the notable figures in the silver mining industry, his name being familiarly associated with Jay Cooke and his compeers. As a government contractor, also, both long previous to and following the Civil War, Mr. Byram was very prominent. Subsequently he turned his attention to banking at St. Joseph, Missouri, which city he left in 1875 to settle permanently in Chicago. This choice of residence was an event of consequence, even to so great a metropolis, for it was here that he invested the greater part of his accumulations. In 1879 Mr. Byram built, in Chicago, the Horn Silver Smelter, which was one of the first put in operation in this country for the treatment of refractory ores. It was due to his mechanical genius and practical ideas in the construction of this smelting plant that the cost of refining the ore from the Horn mine was reduced from $45.00 to $9.00 per ton, with a corresponding profit to the stockholders. Though not having the advantages of a collegiate education, Mr. Byram early acquired a taste for good literature, and in later life a large portion of his time was spent in the reading of his favorite authors. Modest and retiring in his nature, few outside of his immediate family came to know him intimately, but by those who got behind his natural reserve he was loved for his uniform courtesy and kindness of heart. As a citizen Mr. Byram interested himself in enterprises of a public and philanthropic character, and his benefactions were many. For years he was a valued member of the Calumet Club, resigning only when increasing physical infirmity necessitated such action. In his later years Mr. Byram lived in retirement from active business, in full enjoyment of a happy domestic life, while gradually, peacefully, the sands of his life ran out. He died at his home in Chicago, April 6, 1901. He is survived by Mrs. Byram, to whom, as Miss Eleanor Wetzel, of Virginia, he was wedded on April 29, 1859; also by the seven children born to them, whose names in the order of their ages are: Frances, now Mrs. Frances B. Burnes; Harry A., who died August 7, l884; Sarah, Mrs. I. N. Perry; William; Alice, Mrs. Harold A. Howard; Charles F. and Muriel, all of whom except the oldest son, William Byram, who lives in Sydney, Australia, are residents of Chicago.
Source
MacGrath, Hyland, and George Irving Reed, eds. "Augustus Byram." In Encyclopaedia of Biography of Illinois, III: 99–100. Chicago: The Century Publishing and Engraving Company, 1902.
Last changed: Jul 14 2018 at 2:06 PM
Back