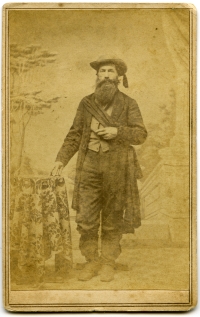 Dr. Caleb Winfrey was a merchant and practicing physician at Lone Jack, Missouri at the start of the Civil War. Winfrey joined the Missouri State Guard as a surgeon and served in that capacity during the Battle of Wilson's Creek. Elected captain of a company in 1862, Winfrey fought for the Confederates at the Battle of Lone Jack. Appointed chief surgeon in Shelby's Iron Brigade, Winfrey was present during the Battle of Cane Hill, Prairie Grove and Newtonia. Winfrey served as a surgeon during Price's 1864 invasion of Missouri and stayed behind after the Battle of Westport to care for the Confederate wounded. After the war, Winfrey settled in Pleasant Hill, Missouri, where he resumed his medical practice.
At the beginning of the war Dr. Winfrey was a merchant and practicing physician at Lone Jack. Geo. B. Webb, who had served with Doniphan in Mexico, was a prominent, citizen in the same neighborhood. Webb and Winfrey were David and Jonathan over again. In the summer of 1862 these two men called their mutual friends together and organized them into a Confederate company. Dr. Winfrey was elected captain and Webb lieutenant- In a few days the company had its baptism of fire at the battle of Lone Jack. After the fight Dr. Winfrey was made surgeon of the Second (Days') Regiment, with the rank of major. Lieutenant Webb became captain and served in this capacity until he fell mortally wounded at the battle of Byram's Ford, near Westport, in 1864. As Captain Webb languished with his death wound on the field, Dr. Winfrey took him up and cared for him for two weeks until he died, then buried him beside his comrades. The body was afterwards reinterred at Forest Hill Cemetery.

Dr. Caleb Winfrey was born December 8, 1823, in Surry County, North Carolina. At the age of nineteen he came west and located near Chapel Hill, famous for its college. Young Winfrey taught school for awhile, and then attended the Medical Department of the St. Louis University, from which he graduated in 1847. In June of that year he married Miss Elizabeth Shore and settled at Lone Jack for the practice of his profession. In 1861 he had a lucrative practice, owned a large farm, and was proprietor of a drug and general store at Lone Jack. He enlisted as surgeon in the State Guards, and accompanied Colonel Gideon W. Thompson to Cowskin Prairie. At the battle of Wilson Creek his skill as a surgeon was invaluable. He was present at the battle of Lexington. He spent a part of the winter of 1862 with his family at Lone Jack—a time full of danger and narrow escapes. In the spring he and Webb organized Company C, which fought its first battle at Lone Jack. At the beginning of the battle Dr. Winfrey found the Federals entrenched in his store and in his dwelling adjoining. He led his company against them, but was repulsed in a bloody conflict. After falling back, he rallied his men and in a second charge dislodged the enemy and held the buildings to the end of the fight.

After the battle of Lone Jack, Dr. Winfrey went south with Hays' command. He was senior surgeon of Shelby's brigade, and was present at the battles of Cane Hill, Prairie Grove, and Newtonia. He was at the second battle of Springfield (January 8, 1803). He remained here after the Confederates withdrew, in charge of the hospital until the wounded were able to travel, when he accompanied them as prisoners of war to City Point, Virginia, where they were exchanged.

From City Point he set out to rejoin his command, and on his way arrived at Vicksburg just before the beginning of the siege. He saw the battles of Champion Hill and Big Black, was in Vicksburg during the siege, and remained there until the place capitulated. He met and conversed with General Grant. The return trip across the Mississippi River was a dangerous one, but he arrived safe at Price's army, in camp at Camden. He was at the principal battles in the operations against Steel, and in the autumn of 1864 came with the command on Price's great raid.

The wounded at the battle of Westport required many surgeons and Dr. Winfrey, at the request of General Price, remained to care for his soldiers and dying comrades. He arrived at St. Louis on his way back to the army, when news came that Lee had surrendered.

After the war, Dr. Winfrey enjoyed a very large practice for years at Pleasant Hill, Mo. In 1879 he moved to Kansas City, where he still lives.
Source
Webb, William L. "Dr. Caleb Winfrey." In Battles and Biographies of Missourians, or, the Civil War Period of Our State, 328–30. Kansas City: Hudson-Kimberly Pub. Co., 1900. https://archive.org/stream/battlesbiographi00webb#page/328/mode/2up.
Last changed: May 10 2019 at 11:35 AM
Back