Big Blue Battlefield Walking Tour Video
Federal Advance to Bloody Hill
Between 8:00 and 10:00 a.m. on October 23, 1864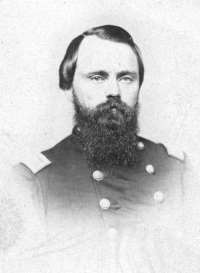 Colonel John F. Philips, WICR 31832 in the collection of Wilson's Creek National Battlefield. Image courtesy of the National Park Service
After Colonel Edward F. Winslow orders Colonel John F. Philips to charge the enemy's position, Colonel Philips mounts the First MSM Cavalry and leads them in two unsuccessful charges up the Byram's Ford Road. Now dismounted, Colonel Winslow orders the entire Federal line to advance against the enemy. As the Federals advance, Brigadier General John B. Clark, Jr. withdraws from the rocky ledge back to the main Confederate defense line on Bloody Hill.
Play video to see troop movements.
Written and produced by Dick Titterington, aka theCivilWarMuse.
Copyright © 2015 Grawader Enterprises, All Rights Reserved.