Big Blue Battlefield Walking Tour Video
Federals Force Crossing at Byram's Ford
Between 8 and 9 a.m. on October 23, 1864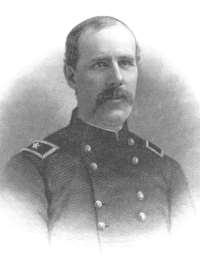 Colonel Edward F. Winslow from Story of a Cavalry Regiment by Scott.
After failing to get across the Big Blue River, Colonel Edward F. Winslow leads reinforcements down the hill to support the Philips' Brigade. The Federals are able to fight their way across and gain possession of the west bank of the river. The Confederate skirmish line falls back to Bloody Hill."
Play video to see troop movements.
Copyright © 2015 Grawader Enterprises, All Rights Reserved.