Big Blue Battlefield, West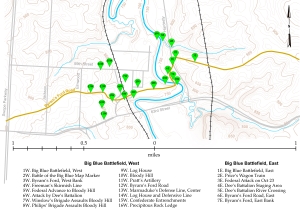 Click image for larger map
| | |
| --- | --- |
| 1W. Big Blue Battlefield, West | 2W. Battle of the Big Blue Map Marker |
| 3W. Byram's Ford, West Bank | 4W. Freeman's Skirmish Line |
| 5W. Federal Advance to Bloody Hill | 6W. Attack by Dee's Battalion |
| 7W. Winslow's Brigade Assaults Bloody Hill | 8W. Philips' Brigade Assaults Bloody Hill |
| 9W. Log House | 10W. Bloody Hill |
| 11W. Pratt's Artillery | 12W. Byram's Ford Road |
| 13W. Marmaduke's Defense Line, Center | 14W. Log House and Defensive Line |
| 15W. Confederate Entrenchments | 16W. Precipitous Rock Ledge |
[Waypoint = 39.016654, -94.525265]

Directions
This tour stop is located at 5951 Manchester Trafficway in Kansas City, Missouri. Return to your car on Hardesty Avenue and drive south to E 63rd Street. Turn right (west) onto E 63rd Street. After 0.5 miles, turn right (north) at the traffic light onto Manchester Trafficway. Stay on Manchester Trafficway as it turns to the right (east) crossing the railroad tracks. Just after the tracks, the road turns to the north. Take the first right onto E 60th Street. Pull into the small parking lot located just a little ahead on the left. The building is part of the battlefield park and is scheduled for eventual demolition.
Description
This stop is a jumping off point for walking to other tour stops on this side of the river. The area covered by this part of the tour is also located on the Big Blue Battlefield Park and is listed on the National Register of Historic Places. You are standing in the middle of what was a large open area. Look around and you can see this part of the battlefield is in varying states of restoration.
You are in the middle of an industrial park that was developed in the 1950s and 1960s. Some of the buildings have been acquired or are in the process of being acquired by the Monnett Battle of Westport Fund. Once a building is acquired, it is scheduled for demolition, followed by site restoration to battlefield conditions.
This area was part of a 600 acre farm owned by Peter and Augustus Byram. The Byram brothers were teenagers when they emigrated from Kentucky to western Missouri in 1839. Legend has it they wanted to get out from under their controlling step-mother. They were not present during the battle. The brothers had decided to abandon farming, gone to work for the freighting company of Russell, Majors & Waddell, and had relocated to Nebraska City in the Nebraska Territory.