Federals React to Invasion Rumors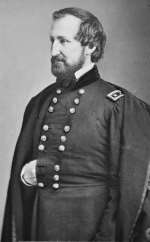 William S. Rosecrans courtesy of the Library of Congress
The Federal commander in Missouri, Major General William S. Rosecrans, kept hearing rumors about an invasion of Missouri by Sterling Price. Rosecrans was concerned because all he had were around 14,000 Missouri State Militia to keep the peace in the state, let alone repel a Confederate invasion. Rosecrans alerted the War Department about the invasion rumors. He asked for the authority to raise additional volunteers in the state. He also asked the War Department to divert to St. Louis two divisions from the 16th Army Corps under Major General Andrew J. Smith who were on their way to reinforce Major General William T. Sherman. The War Department granted Rosecrans' requests. Smith reached St. Louis with about 9,000 infantry by mid-September. Rosecrans was also able to raise an additional 3,500 volunteers by the end of September.
When Rosecrans finally learned that Price has entered southeastern Missouri, he ordered Brigadier General Thomas Ewing, Jr. to proceed with reinforcements down to Fort Davidson in Pilot Knob, Missouri. He also ordered his commanders in Springfield and Rolla to bring as much of their cavalry as possible and head for Jefferson City as quickly as possible. Rosecrans sent a telegram to the War Department on September 24.
"The evidence is strong that we are to have a very formidable invasion by Southeast Missouri. Price has ten brigades of mounted infantry … The advance, 5,000 strong, with four pieces of artillery, was in Fredericktown to-day. We shall use every available means to defend ourselves, but our force is weak and scattered over the State."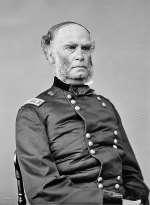 Samuel R. Curtis courtesy of the Library of Congress
The Federal commander in Kansas, Major General Samuel R. Curtis, had also heard the invasions rumors and had kept in touch with Rosecrans. Curtis had even fewer troops to protect Kansas than Rosecrans had in Missouri. So Curtis appealed to Kansas Governor Thomas Carney to call out the Kansas State Militia. He also ordered many of his veterans deployed throughout the state to come east. On September 22, Curtis sent a message to Major General James G. Blunt.
"Governor Carney has ordered out the militia, and I am sending all available forces toward the enemy … The presence of an enemy in formidable force … will, no doubt, stimulate bush-whackers in Western Missouri, so as to renew difficulties and augment them on the border. I therefore recommend you to distribute enough force along the road to make matters as safe as possible, and move yourself with the remainder to Council Grove."
The stage was set. Rosecrans was mobilizing troops to defend Missouri, and Curtis was mobilizing his forces to defend Kansas.