Second Battle of Lexington, October 19, 1864

James G. Blunt courtesy of the Library of Congress
Knowing that a large Confederate force was headed in his direction, Department of Kansas Commander Major General Samuel R. Curtis worked to prepare his defenses. By the time Price was moving towards Lexington, Curtis had around 17,000 Kansas State Militia arrayed near the border with Missouri. Curtis ordered Major General James G. Blunt into Missouri with about 2,000 of veteran cavalry. On October 18 Blunt reached Lexington. On the lookout for Price's advance guard, Blunt could provide the Federals an early warning of Price's arrival in the region. He could also buy time for Curtis to complete the Federal defense line back near Kansas City. Curtis decided to set up his main line of defense along the Big Blue River just east of Kansas City and Westport.
"My own headquarters were … near Kansas City, but I made a reconnaissance of the country in person through Independence and Hickman Mills, ascertaining to my own satisfaction that the Big Blue should be a first main line of battle, Kansas City a second, and finally, if overpowered, Wyandotte, on the north side of the Kansas River, connected by a floating bridge … I directed my chief engineer, Lieutenant Robinson, to construct field works at each of these positions in view of this plan and attend to the proper organization of guns and light garrisons which could be spared for these positions."
Colonel Thomas Moonlight, commanding the Second Brigade in Blunt's Provision Cavalry Division, arrived in Lexington with his advance and set up pickets about three miles out on roads south and east of the town. Around 11:00 a.m. on October 19, shots were fired and the Federal pickets were being driven in. Moonlight described the fighting that took place on October 19.
Thomas Moolight courtesy of the Library of Congress

"We held our ground for a couple of hours, checking his advance and sparing for time. A retreat was ordered in the direction of Independence [Missouri] my brigade was assigned the duty of covering the rear. On the rebels came on all sides (for they were cavalry) and a running fight ensued long after dark.

"I have witnessed some fighting & been in dangerous places, but never did I feel as much the importance of my trust, nor was I ever so hard pressed as on that retreat. My regiment was in the rear and contested every inch of ground, fighting hand to hand with the advancing & flanking forces, never yielding their position until ordered. Living men could not have done more than they did, and although this was not the longest and most desperate fight of their enlistments, it was the most trying & dangerous, as we were liable at any moment to be completely cut to pieces or captured."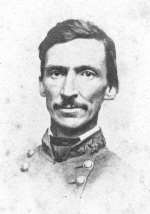 M. Jeff Thompson courtesy of the Wilson's Creek National Battlefield, National Park Service
The Confederate attack was by units from Shelby's Division under the command of Brigadier General M. Jeff Thompson. The Federals offered stiff resistance before withdrawing west towards Independence. Thompson described the encounter in his official report.
"On the 19th we were met by the enemy. My brigade was in front, and we drove him with varied but uninterrupted success until he was westward of the city of Lexington, when with a charge we drove him entirely away, and followed him until the darkness of night rendered further pursuit impossible … After the pursuit of the enemy was given up we were ordered to proceed by the river road down to Lexington, and we encamped in the corporate limits of the city."
The Confederates encountered stiff resistance when they fought the Kansas cavalry at Lexington. Although they had driven the Federals out of Lexington, the stage was now set for a series of intense fighting which was going to occur over the next three days. Major General Sterling Price had one large Federal army to his front and another large Federal army pursuing in his rear. Brigadier General Jo Shelby summed up the situation.
"Leading the advance on the 19th, I encountered a heavy force of Federals under General Blunt five miles from Lexington. Immediate battle was given. The enemy were stubborn at first and handled their artillery well, but [we] pushed them hard past Lexington and well on the road toward Independence. This was the first real indication of the immediate presence of a concentrated force in our front, and I knew now there would be heavy work for us all in the future."
After retiring from Lexington, Brigadier General James G. Blunt was in Wellington, Missouri when he sent a message at 7:00 p.m. to Curtis in Independence.
"Price advanced on Lexington in two columns and drove in my pickets about 2 p.m. I advanced my line, skirmishing with them until their whole force was developed, and they commenced to flank me on the right and left, when I fell back on the Independence road. They pressed us hard, lint we made our retreat, losing but few men. I shall move unceasingly to-night until I find a good position and am in supporting distance of you. It is certain that Price's whole force is in Lexington, and is not less than 20,000. Their artillery did us no damage, while ours was used with good effect. I will communicate with you often."
Blunt was convinced that the Federals could defend the bridge crossing the Little Blue River on the Independence to Lexington Road. He assembled his men there to wait for the Confederate advance. Then Blunt send word back to Curtis to send him reinforcements. Blunt wanted to make a stand at the Little Blue River.