Second Battle of Independence, October 22, 1864
The Confederate rear guard consisted of two brigades from Fagan's Division. One brigade was commanded by Colonel William F. Slemons and the other by Brigadier General William L. Cabell. Cabell's Brigade escorted the wagon train as it moved to Byram's Ford. Slemons' Brigade was deployed just east of Independence when Pleasonton's cavalry attacked.
| | |
| --- | --- |
| William L. Cabell courtesy of the Library of Congress | William F. Slemons courtesy of the Library of Congress |
Brigadier General John McNeil attacked the enemy with the Second Brigade from Pleasonton's Provisional Cavalry Division. Slemons stubbornly resisted the attack, falling back into Independence slowly. McNeil sent back for reinforcements. Pleasonton sent the Third Brigade commanded by Brigadier General John B. Sanborn.
| | | |
| --- | --- | --- |
| John McNeil courtesy of the Library of Congress | John Sanborn courtesy of the Battle of Westport Museum | Edward F. Winslow from Story of a Cavalry Regiment by Scott |
By 3:00 p.m., Cabell had escorted the train safely to Byram's Ford and returned to reinforce Slemons in Independence. The combined forces of McNeil and Sanborn charged through the streets of Independence to attack the Confederates, who were unable to stand up to the cavalry charge. The Confederate artillery was captured by the Federals, and Cabell, himself, just barely escaped being captured. Cabell and Slemons retreated towards Byram's Ford. Pleasonton sent the Fourth Brigade under Colonel Edward F. Winslow in pursuit, followed by the First Brigade under Brigadier General Egbert B. Brown.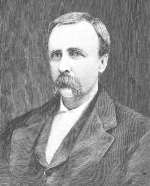 John N. Edwards from Memoir by Edwards
Major John N. Edwards was Jo Shelby's adjutant during the campaign. After the war he wrote about the night of October 22, 1864.
"Shelby unsaddled and went into camp upon the spot where he had fired his last gun, stationed his sentinels, renewed his ammunition, and tried to sleep supperless and thirsty just as he had done twenty times before under skies almost as dark. This night saw the turning point of the entire expedition; this night General Price slept four miles in rear of Shelby's division, which covered the entire front and right flank of his army; this night Rosecrans came up fresh and vigorous as a lusty swimmer; this night General Price rested when he should have strained every nerve of physical endurance to place forty miles between his army and the overwhelming force of Federals. He may not have known his danger, he might have been ignorant of the masses in his rear, but he certainly did know that his enormous train would seriously embarrass his operations on the morrow in case of retreat under fire, and that at least should have been sent forward. The army, too, had only inarched ten miles from Independence, after a sound and refreshing sleep the night before, and was thereby in hotter condition to make the terrible marches soon rendered necessary by events."